Bowater Trust Medal
Each year high-achieving students are invited to apply. Finalists are interviewed and the winner is selected by a panel including a representative of the Bowater Trust.
The prestigious Bowater Trust Medal has been awarded each year since 1988 to a graduate who has:
Achieved academic excellence in a Faculty of Business and Law undergraduate degree; and
Demonstrated outstanding performance in a major offered by the Departments of Management and Marketing.
2014 joint medallists: Amy Bilton and Melissa Cameron
Amy Bilton
Amy Bilton completed a Bachelor of Arts/Bachelor of Commerce, with majors in marketing, media and communication, and public relations. A highlight of Amy's studies was participating in the prize-winning Deakin team in the L'Oreal Brandstorm competition.Read more..
Amy undertook an internship at Professional Public Relations working on the 2010 and 2011 Melbourne Spring Fashion Weeks and the Lavazza and Emirates marquees at the Melbourne Cup Carnival. Following that Amy undertook a course in Fashion Runway Production with The Event Gallery and consequently volunteered at the L'Oreal Melbourne Fashion Festival. Amy's most rewarding experience however was a volunteer position with The Satellite Foundation, allowing her to give back and support an organisation with her growing expertise that has strengthened herself and her family through some of their toughest times.
Melissa Cameron
Melissa completed a Bachelor of Commerce with majors in management and psychology. She achieved outstanding results whilst maintaining full-time employment as a Business Operations Manager, taking advantage of the flexibility of studying off campus.Read more..
Melissa's academic achievements include being recognised in the 2014 Dean's Merit List, membership of the Golden Key society, and a prize for Business Communication. Melissa was also invited to participate in Deakin University's successful submission for international EPAS accreditation with the European Foundation of Management Development for its Bachelor of Commerce program.
Melissa undertook an internship with Pentana Solutions as part of her studies. This involved contributing to the planning, organising and coordinating of a 3-day company convention for the motor vehicle industry. Melissa is currently Business Manager of an addiction treatment centre, a role that combines her interests in psychology and management.
The Medals and cheques for $3,000 were presented to Amy and Melissa by the Chair of the Bowater Trust, Mr Kean Selway, Deakin University Vice-President (Enterprise and Engagement) at an event attended by student prize winners and their families, staff of the School of Management and Marketing, and members of the Bowater Trust.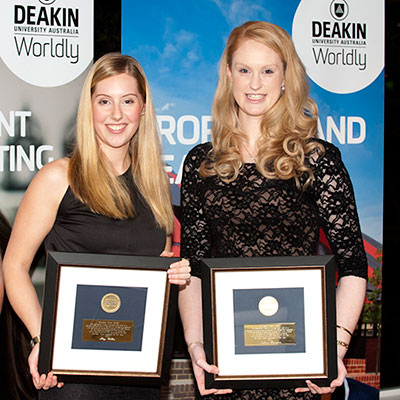 ---
Bowater Trust Medal honour board
The Bowater Trust Medal has been awarded each year since 1998. In earlier years it was called the Archdall Medal, then the Bowater Medal.
We are very proud of the academic achievements of these students, chosen as ambassadors for the Deakin Business School.
2013 Stephanie Moloney
2012 Rachel Krasky
2011 Hannah Macdougall
2010 Lakmini de Silva
2009 Jenelle Morton
2008 Naomi MacLean
2007 Stephen Evans
2006 Arwen Tisch
2005 Rachel Jones
2004 Catherine Prior
2003 Lisa Humphries
2002 Peter Cullinan
2001 Robert Richard
2000 Chin Tee Tan
1999 Jenny Smallwood
1998 Larelle Woods and Lucy Kardas
1997 Jodie Black
1996 Sandra Hillas Wilcox
1995 Todd Bryers
1994 Janis Wells
1993 Kerryn Mansell
1992 Robert Argieri
1991 Elizabeth Hunger
1990 Clare Walker
1989 Merrilyn Hotchkin
1988 Lydia Borrino
---
Bowater Trust
This public trust was established in 1988 with an endowment by the Bowater Corporation of Australia Limited of $250,000. The Trust is also supported by public donation. Under the terms of the Trust, annual income from the Trust funds may be used (by Deakin Business School staff only) for a variety of purposes such as seminars, lectures and conferences, research projects, published reports, equipment and facilities and activities which may not be possible under normal funding provisions.
The Trustees are:
Mr Kean Selway
Professor Paul Couchman
Mr Gary Gribbin
Emeritus Professor Darrell Mahoney
Mr Kevin Thomas
Dr Lisa McQuilken
Secretary: Mrs Elizabeth Fitzgerald
Some recent projects supported by the Bowater Trust include:
Research Trimester grants for staff
Social Entrepreneurship Challenge
Study of corporate social responsibility in professional sport $5,800
Study of social sustainability in housing markets $5,912
Increasing investment in sustainability in the built environment $12,000
Deakin Bowater Trust Outstanding (Staff) Contributor Prize $2,000
The Bowater Medal $3,000: The Bowater Medal is awarded each year to the graduate who has completed a major offered by the Deakin Business School and is deemed to be most deserving of the title "Bowater Graduate of the Year".
Page custodian: Faculty of Business & Law Last updated: