Industry Partners
The School of Information and Business Analytics has an extensive range of industry partnerships across its Teaching and Research programs.
The School's Industry Advisory Board consists of representatives of major employers of our graduates, Victorian Government and professional bodies and plays a key role in ensuring our academic programs remain relevant and current.
Formal partnerships of the School include:
The IBM Centre of Excellence in Business Analytics
Course partners of the Master of Business Analytics
Industry certification partnerships:

IBM (Analytics)
Microsoft (IT Academy)

Professional/industry groups:

Institute of Analytics Professionals of Australia (IAPA)
ICT Geelong
The School welcomes new industry collaborations in Teaching and Research. Please contact the Head of School to discuss partnership proposals.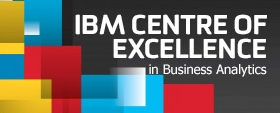 Industry Advisory Board

The primary role for the Industry Advisory Board is to act as an industry partner to the University and provide suggestions and feedback to ensure the curriculum evolves to remain highly relevant. Industry wants motivated graduates with relevant skills and a great attitude.
The members of the Industry Advisory Board represent a broad cross section of private and public enterprise from many industries. Members take an active interest in the development of education programs and many are involved in graduate recruitment initiatives.
The Industry Advisory Board meets with Faculty staff at least four times a year, and provides active input to update existing curriculum and develop new initiatives. The Faculty staff also benefit from having regular discussion with industry leaders about the skills, knowledge, attributes and attitudes sought by employers.
Graham Sammells (Chair)
CEO, IQ Business Group
Page custodian: Faculty of Business & Law Last updated: