IBM Centre of Excellence
The IBM Centre of Excellence in Business Analytics, established in October 2012, is located within the School of Information and Business Analytics at Deakin's Melbourne Burwood Campus on Elgar Road.
This is Australia's first Centre of Excellence in Business Analytics. Deakin and IBM aim to use the Centre to showcase and promote excellence in Business Analytics and develop skills in the field.
The technological advances of the Information Age have enabled organisations to capture and analyse masses of information about customers, competitors and day-to-day operations. They can transform this information into a key business asset.
The Centre of Excellence plays a key role in Deakin's new course offerings in Business Analytics and will help develop highly sought after business analytics skills. Deakin students will have access to IBM's Analytics technology tools and certification programs in Analytics through this centre.
The Centre of Excellence is governed by a Steering Committee consisting of representatives from IBM and Deakin.
Recently, the Centre of Excellence hosted a public seminar featuring a keynote presentation from IBM Watson on early observations of the cognitive computing era. As well as an expert panel discussion on contemporary business analytics applications, challenges and success factors in public and private sectors.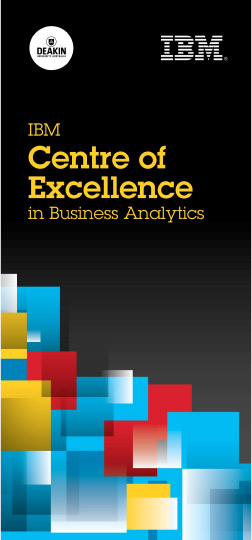 Page custodian: Faculty of Business & Law Last updated: