Careers Network Bulletin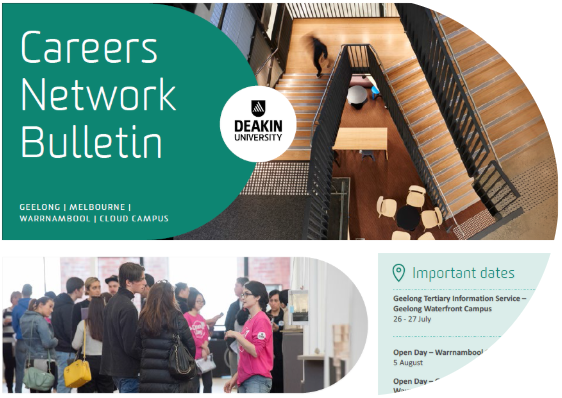 Stay up to date with our course offerings, upcoming events and other important information by reading our bi-monthly Careers Network Bulletin. If you've already a subscriber, this bulletin will be emailed to you directly.
CASPer information session
Our Faculty of Education has been busy collating your feedback in preparing for CASPer testing for Education entry in 2019. At late notice we were able to secure a webinar with Altus Assessments staff, based in Toronto Canada. Deakin's School of Education Head of School, Professor Christine Ure, hosted the webinar on the morning of Wednesday 25 July.
The session really focuses on Altus' top 10 tips for those undertaking the CASPer test, as well as information about how test scores are assessed, and what the theory is behind the test.
You can find a recording of the information session here
The session runs for 53 minutes in total, with questions from CPs in attendance commencing at the 42 minute 30 second mark of the video. As mentioned in the video, Diana Ibranovic from Altus Assessments has been kind enough to take questions both from attendees and those who couldn't make it.
Diana will be compiling all of your questions, as well as those from the session and we will share those questions and answers in a collated document in the coming weeks.
Please send any questions through to dibranovic@altusassessments.com.
Haven't found what you're looking for?
Head over to our publications order form to select from our full range of brochures and guides.
2018 Careers Practitioners' Seminar Presentations
Education
Law
Media, communication and creative arts
Business
Careers and study options