Ashlee's Story
A.L. Lane Foundation Scholarship
Since my dad passed away, my mum has looked after my two sisters and I on her own and it's been tough on her being the main breadwinner.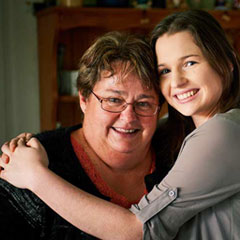 If it wasn't for the scholarship I received, the truth is I probably would have struggled to go to university.
I've always loved kids, and I want to eventually become a paediatric nurse, but university can be expensive, and with text books and uniform fees, it would have really stretched us financially.
Portland is an hour and a half drive from Warrnambool where I go to university, and my scholarship has allowed me to live in one of the student residences rather than drive to university every day, which has been a huge relief to mum.
We have some pretty busy country roads, and mum was really worried about me having to drive long distances each time I had a class.
Living in one of the residences also means she knows that I will be looked after, and can concentrate on my studies.
Being the first in my family to go to university has also been a really proud moment for both my family and me. My younger sister has told me that she now wants to go to university to study teaching, so hopefully I can pass on my experience of university life and make it easier for her too.