Bryce's story
Warrnambool Cheese & Butter Factory Scholarship
A few thousand dollars might not be a lot to some people, but it is a huge amount of money to me, almost a quarter of my yearly income!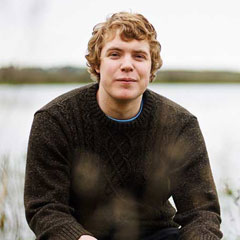 Money has constantly been on my mind while studying at university as I've had to be fairly self-reliant with my finances.
After completing my degree in Freshwater Biology last year I wanted to continue and do my Honours, but realised there was no way I could afford it as I had worked hard and saved only enough to do my undergraduate.
Applying for a scholarship became the only way I could stay in Warrnambool and continue to study.
My scholarship has allowed me to spend more time doing what I love most - learning and studying about freshwater fish and their habitats.
One of the hardest things about doing your Honours is trying to find the right balance between work and study, because the contact hours can be pretty intense.
On the one hand I need to work to pay the rent and eat, but on the other hand, I need to find enough time during the week to study and do the best I can at university.
The financial support from my scholarship has meant I have been able to cut down my work hours to a more manageable amount, which has been incredibly helpful.
I just love learning about freshwater fish and their environments, and I feel very grateful for this support that allows me to continue to do what I love doing.