Chris' Story
Bennett Family Scholarship (2001)
The impact of philanthropy has come full circle for me.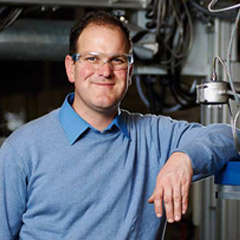 Since receiving the Bennett Family Scholarship during the final year of my textile degree in 2001, I have established a successful career at the Institute for Frontier Materials with Deakin University, where I now sit on the selection panel to award the Bennett Family Scholarship to current textile students.
As a student, receiving the scholarship was life-changing. It allowed me to attend my first ever research conference in Cairo, Egypt, where I had my final year project paper accepted as part of the conference. It was a big deal for me. I had a young family, we had a newborn and were living on a single income, so being able to go to that conference and have my paper presented was a huge moment in my career.
It gave me a thirst for textile research and the amazing possibilities out there for the future.
The Bennett Family Scholarship was really important to me both personally and professionally, and it is great to play an active role and see first-hand the impact it has on another person's career. The scholarship provides current research project students' an opportunity to work within our research group over the summer for a three-month period, with myself asa mentor.
Research is about solving problems. It gives you the ability to step back and say 'hey, we seem to have a recurring problem - rather than just fix it once it happens, let's investigate how we can negate it so that it doesn't happen again.'It is about changing what we do so that we don't continue having this problem to fix.
Thinking about it like that makes a big difference to the world, and supporting young researchers through scholarships is often the first step towards making that difference.