Christina's Story
First in the Family grant
I became a carer for my mum from the age of nine, so for me, university was never really an option.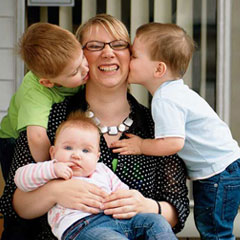 When my mum fell ill, I had to take on more responsibility for my family and by Year 9 I had left high-school to become a full-time carer for her.
It was a lot of responsibility, managing the household budget, paying the bills, and it wasn't until later in life when my own health forced me to take some time off work, that my partner suggest- ed I should look at doing some study. 'You're smart enough,' he said.
I was 20 years old, and it was the first time someone had ever said something like that to me. Neither of my parents went to university, and in our family it was expected that you just got a job and built a life that way.
When you grow up in a small country town like Horsham, you sometimes forget that online education is a vaible opportunity to better yourself.
So I enrolled at the local TAFE, did some bridging work and got into the the stream to do accounting. It ignited a passion inside of me, I realised I wanted to learn and I absolutely loved it.
I had just had my first child when I began studying at Deakin, and while I was really happy to be enrolled in university, I began to realise the costs associated with study; buying books and software. I had finally reached university and I thought, 'here I am, but now how am I going to afford it!'
That's why I was so lucky to get a scholarship; it gave me the chance to take up the opportunity I had been given. More than that though, it said that someone believed in me, that I was worth the investment to get that education. It pushed me on, gave me focus.
Money isn't just money. To somebody who doesn't have anything and doesn't have someone who believes in them, a scholarship can actually be the difference between working at the local supermarket for the rest of their life, and breaking the chain of adversity from generation to generation, and making a go of it.

---