Showcase
Our students in communication and creative arts make and tell stories about the world in many different ways. Learning by doing, thinking from the start about audiences, productions and the creative processes in between, students contribute in diverse and exciting ways to cultural life. Explore our showcase of current and former student productions and find the stories that interest you!
Discover Drama at Deakin
Drama at Deakin specialises in marrying practice and theory. Drama students learn about the history and theory of drama, theatre and performance by making drama, theatre and performance.
Discover Dance at Deakin
Deakin is a leading university for a Dance course that trains both body and mind and leads to exciting careers in contemporary dance performance, choreography and production.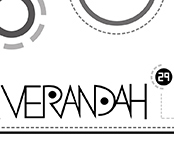 Verandah Literary Journal
Each year, a new publication team is selected from students studying the Professional and Creative Writing and Visual Communication degrees, and their vision and philosophies are reflected in the journal. It has remained a constant commitment over the years for Verandah to produce an art and literary journal of the highest quality and one which serves as a platform of development for both budding writers and artists. Discover how you can be part of the team!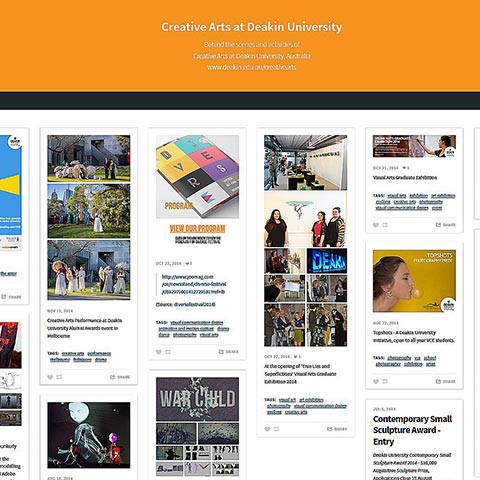 Behind the scenes and activities of Creative Arts at Deakin University, Australia.
Discover Photography

Karina Kusdinar from Indonesia graduated with a Bachelor of Creative Arts (Photography) from Deakin University. Watch Karina's story and be inspired.
D Festival
dfestival is Deakin's annual Creative Art major festival. This year we are 248 students from 7 different disciplines participating in a Major Collaborative Project. One thing we all have in common is that we wish to work as paid dreamers, dreaming up solutions for ourselves or others.
Discover Creative Arts
Creative Arts research students talk about their research and share their experience as students at Deakin University.
Discover Film and TV
No News is Good News, a film by Deakin University Creative Arts (Film and TV) student Scott Burgess. The familiar becomes strangely unfamiliar in this experiment in context.
Behind the Scenes
The making of 'Free Range Bread' - TVC for Abbott's Village Bakery is another great project from the Deakin Motion.Lab and Alt.vfx. The concept for this campaign called for realistic quadruped movement in the shape of loaves of bread. 'We decided to motion capture a dog to provide the motion data and eventually settled on a sausage dog for the similarity in size and proportion to the target rig'.
Page custodian: Faculty of Arts & Education Last updated: