Current and upcoming conferences
26 - 28 November 2014
Melbourne Park in Melbourne, Australia
Deakin University, through the sport management program in the School of Management and Marketing, are proud to be co-hosting the 20th anniversary conference for the Sport Management Association of Australia and New Zealand - SMAANZ.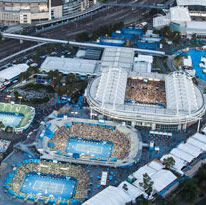 ---
4-5 December 2014
Special Issue Conference of the Journal of Banking and Finance
6-7 November 2014
Geelong Waterfront Campus, Deakin University Gheringhap Street, Geelong Australia
Caffeinated energy drinks are the focus of a new and rapidly progressing public health conversation in a number of countries. With most developed nations experiencing an exponential growth in energy drink sales, there are emergent fears amongst many health advocates about the health and behavioural effects of energy drink use. A developing interdisciplinary group of independent, government-supported and industry-funded researchers are working to investigate.
---
Page custodian: eSolutions - Digital Presence Last updated: