The Third Asia Pacific Bioinformatics Conference
17-21 Jan, 2005, Singapore
The Asia-Pacific Bioinformatics Conference series is an annual forum for exploring research, development and novel applications of Bioinformatics. The Third Asia-Pacific Bioinformatics Conference, APBC2005, was held in Singapore Institute for Infocomm Research (I2R), 21 Heng Mui Keng Terrace, Singapore 119613.
More information about the APBC2005 conference can be found by downloading the attached .zip file of the site, alternatively through the APBC2005 brochure (PDF, 71.4 KB) .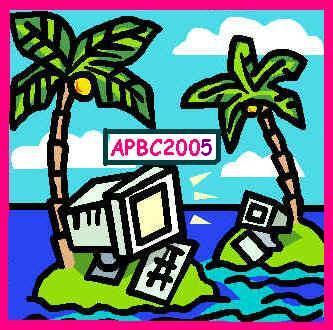 Key information
High-throughput sequencing and functional genomics technologies have given us a draft human genome sequence and have enabled large-scale genotyping and gene expression profiling of human populations. Databases containing large numbers of sequences, polymorphisms, and gene expression profiles of normal and diseased tissues in different clinical states are rapidly being generated for human and model organisms. Bioinformatics is thus rapidly growing in importance in the annotation of genomic sequences, in the understanding of the interplay between genes and proteins, in the analysis the genetic variability of species, etc. The aim of this conference is to bring together researchers, professionals, and industrial practitioners for interaction and exchange of knowledge and ideas. We invite submissions that address conceptual and practical issues of bioinformatics.
Topics of interest
Papers are solicited on, but not limited to, the following topics:
Novel Applications in Bioinformatics
Computational Analysis of Biological Data
Data Mining & Statistical Modeling of Biological Data
Modelling and Simulation of Biological Processes
Visualization of Biological Processes and Data
Management, Migration, and Integration of Biological Databases
Access, Indexing, and Search in Biological Databases
---
Sponsorship and supporting organizations
Platinum Sponsors
World Scientific

Gold Sponsors

Silver Sponsors
LION bioscience AG

Supporting Organizations
---
Asia-Pacific Bioinformatics Conference dates
APBC 2016 - Asia Pacific Bioinformatics Conference
11-13 January 2015 in South San Francisco, USA
APBC 2015 - The Thirteenth Asia Pacific Bioinformatics Conference
21-23 January 2015 in HsinChu, Taiwan
APBC 2014 - The Twelfth Asia Pacific Bioinformatics Conference
17-19 January 2014 in Shanghai, China
APBC 2013 - The Eleventh Asia Pacific Bioinformatics Conference
21-24 January 2013 in Vancouver, Canada
APBC 2012 - The Tenth Asia Pacific Bioinformatics Conference
17-19 January 2012 in Melbourne, Australia
APBC 2011 - The Ninth Asia Pacific Bioinformatics Conference
11-14 January 2011 in Incheon, Korea
APBC 2010 - The Eighth Asia Pacific Bioinformatics Conference
18-21 January 2010 in Bangalore, India
APBC 2009 - The Seventh Asia Pacific Bioinformatics Conference
13-16 January 2009 in Beijing, China
APBC 2008 - The Sixth Asia Pacific Bioinformatics Conference
14-17 January 2008 in Kyoto, Japan
APBC 2007 - The Fifth Asia Pacific Bioinformatics Conference
14-17 January 2007 in Hong Kong
APBC 2006 - The Forth Asia Pacific Bioinformatics Conference
13-16 January 2006 in Taipei, Taiwan
APBC 2004 - The Second Asia Pacific Bioinformatics Conference
18-22 January 2004 in Dunedin, New Zealand
APBC 2003 - The First Asia Pacific Bioinformatics Conference
4-7 February 20063 in Adelaide, Australia
Page custodian: eSolutions - Digital Presence Last updated: