The 13th IEEE Pacific Rim International Symposium on Dependable Computing (PRDC'07)
Melbourne, Victoria, AUSTRALIA December 17-19, 2007
The 13th IEEE Pacific Rim International Symposium on Dependable Computing (PRDC'07) will be held between 17-19 December, 2007 in Melbourne, Australia.
PRDC-2007 will focus on the many dimensions of dependability and fault tolerance, encompassing fundamental theoretical approaches, practical experimental projects and commercial components and systems. This symposium provides a forum for countries around the Pacific Rim and other areas of the world to exchange ideas for improving the dependability of computing systems.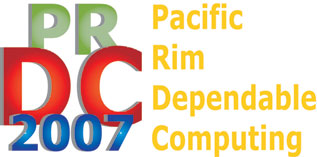 The symposium is returning to Melbourne in 2007 and will be held in one of the centrally located inner city hotels. Melbourne is a vibrant cosmopolitan city that has frequently been awarded one of the world's most "liveable" cities. Melbourne offers an excellent location for this Symposium with numerous local arts, cultural, architectural and sporting attractions. It also provides an excellent hub for many of the tourist attractions throughout Victoria and Australia.
---
Sponsorship and Cooperation
Sponsorship and cooperation is being negotiated with the following organisations.

---
IEEE Pacific Rim International Symposium dates
PRDC 2014 - The 20th IEEE Pacific Rim International Symposium on Dependable Computing
18-21 November 2014 in Singapore
PRDC 2013 - The 19th IEEE Pacific Rim International Symposium on Dependable Computing
2-4 December 2013 in Vancouver, British Columbia, Canada
PRDC 2012 - The 18th IEEE Pacific Rim International Symposium on Dependable Computing
18-19 November 2012 in Niigata, Japan
PRDC 2011 - The 17th IEEE Pacific Rim International Symposium on Dependable Computing
12-14 December 2011 in Pasadena, California, USA
PRDC 2010 - The 16th IEEE Pacific Rim International Symposium on Dependable Computing
13-15 December 2010 in Tokyo, Japan
PRDC 2009 - The 15th IEEE Pacific Rim International Symposium on Dependable Computing
18-21 November 2009 in Shanghai, China
PRDC 2008 - The 14th IEEE Pacific Rim International Symposium on Dependable Computing
18-21 November 2008 in Taipei, TAIWAN
Page custodian: eSolutions - Digital Presence Last updated: