Key facts
IELTS overall score of 6 (with no band score less than 6) or equivalent
Current Deakin Students
To access your official course details for the year you started your degree, please visit the handbook
Course information
The Bachelor of Communication (Journalism) is a three-year specialist degree that gives you the academic and professional capabilities needed for a career in Journalism . You'll learn how to work across all media platforms, whether your goal is to work for large news organisations, allied media businesses, agile new online media outlets, or as a free-lancer.
Journalism at Deakin is a structured program that emphasises hands-on learning of journalistic skills in print, radio, television, and online platforms. You will start journalism practice in your first year and learn the techniques and conventions of researching stories, interviewing techniques, news writing and reporting multimedia stories. You will build on skills and knowledge in year two so you are ready to complete intensive news production work in your final year and be fully prepared to undertake an industry internship.
The course also serves as a pathway for further learning, including a professionally-oriented one-year communication honours degree.
Read More
Course structure
To qualify for the award of Bachelor of Communication (Journalism) a student must complete 24 credit points including:
18 credit points of core units
6 credit points of electives
no more than 10 credit points at level 1
Academic Integrity AAI018
Academic Integrity (0-credit-point compulsory unit)
Level 1
Level 2
Level 2
Level 3
Level 3
Electives
Complete three 1 credit point units chosen from the following course electives:
Complete four 1 credit point units chosen from the following course electives:
Complete six electives, of which at least two must be 2nd or 3rd level
We suggest students complete at least 4 units in a subject area different to their degree, preferably a linked sequence of study in the same area. This choice can include units from any degree in the University but is best chosen from the subject areas in the Bachelor of Arts (https://www.deakin.edu.au/course/bachelor-arts). We also recommend students complete at least two more course electives listed above.
Key information
Award granted
Bachelor of Communication (Journalism)
Year
2019 course information
VTAC code
1400310183 - Waurn Ponds (Geelong), International full-fee paying place
1400510183 - Burwood (Melbourne), International full-fee paying place
Approval status
This course is approved by the University under the Higher Education Standards Framework.
Australian Qualifications Framework (AQF) recognition
The award conferred upon completion is recognised in the Australian Qualifications Framework at Level 7.
Campuses by intake
Campus availability varies per trimester. This means that a course offered in Trimester 1 may not be offered in the same location for Trimester 2 or 3. Read more to learn where this course will be offered throughout the year.
Trimester 1 - March
Start date: March
Available at:

Burwood (Melbourne)
Waurn Ponds (Geelong)
Cloud (Online)
Trimester 2 - July
Start date: July
Available at:

Burwood (Melbourne)
Waurn Ponds (Geelong)
Cloud (online)
Trimester 3 - November
Start date: November
Available at:

Burwood (Melbourne)
Cloud (online)
Deakin splits the academic year into three terms, known as trimesters. Most students usually undertake two trimesters each year (March-June, July-November).
Additional course information
Course duration - additional information
Course duration may be affected by delays in completing course requirements, such as accessing or completing work placements.
Mandatory student checks
Any unit which contains work integrated learning, a community placement or interaction with the community may require a police check, Working with Children Check or other check.
Participation requirements
Reasonable adjustments to participation and other course requirements will be made for students with a disability. Click here for more information.
Work experience
Elective units may provide the opportunity for Work Integrated Learning experiences.
Entry information
General admission requirements for entry into undergraduate courses for international students at Deakin are summarised in the undergraduate admission requirements table. Some courses may have additional entry requirements.

Students must also meet the undergraduate English language requirements.
Admission Requirements Specific Entry for applicants with recent secondary education (previous three years) will be based on their performance in a Senior Secondary Certificate of Education, with pre-requisite units 3 and 4; a study score of at least 25 in English EAL (English as an additional language) or 20 in English other than EAL. Applicants will be selected in accordance with the published Australian Tertiary Admission Rank (ATAR) for that year. Refer to the VTAC Guide for the latest pre-requisite information www.vtac.edu.au
Entry for applicants with previous Tertiary, VET, life or work experience will be based on their performance in:
a Certificate IV in a related discipline OR
a Diploma in any discipline or 50% completion of a Diploma in a related discipline OR
successful completion of relevant study at an accredited higher education institution equivalent to at least two Deakin University units OR
other evidence of academic capability judged to be equivalent for example relevant work or life experience
IELTS / English language requirements Please note that English language requirements exist for entry to this course and you will be required to meet the English language level requirement that is applicable in the year of your commencement of studies. It is the students' responsibility to ensure that she/he has the required IELTS score to register with any external accredited courses. (more details)
For more information on the Admission Criteria and Selection (Higher Education Courses) Policy visit the Deakin Policy Library.
Recognition of prior learning
If you have completed previous studies which you believe may reduce the number of units you have to complete at Deakin, indicate in the appropriate section on your application that you wish to be considered for credit transfer. You will need to provide a certified copy of your previous course details so your credit can be determined. If you are eligible, your offer letter will then contain information about your credit transfer.
Your credit transfer is formally approved prior to your enrolment at Deakin during the Enrolment and Orientation Program. You must bring original documents relating to your previous study so that this approval can occur.

You can also refer to the Recognition of Prior Learning System which outlines the credit that may be granted towards a Deakin University degree.
Fee information
Estimated tuition fee - full-fee paying place
The tuition fees you pay are calculated depending on the course you choose.
The 'Estimated tuition fee' is provided as a guide only based on a typical enrolment of students completing the first year of this course. The cost will vary depending on the units you choose, your study load, the length of your course and any approved Recognition of Prior Learning you have.
Each unit you enrol in has a credit point value. The 'Estimated tuition fee' is calculated by adding together 8 credit points of a typical combination of units for that course. Eight credit points is used as it represents a typical full-time enrolment load for a year.
You can find the credit point value of each unit under the Unit Description by searching for the unit in the Handbook.
Learn more about fees and available payment options.
Scholarship options
A Deakin scholarship could help you pay for your course fees, living costs and study materials. If you've got something special to offer Deakin - or maybe you just need a bit of extra support - we've got a scholarship opportunity for you. Search or browse through our scholarships
Entry pathways
Further studies are available at Honours and Postgraduate level. Many students choose to enter into the Bachelor of Communication (Honours) or the Master of Communication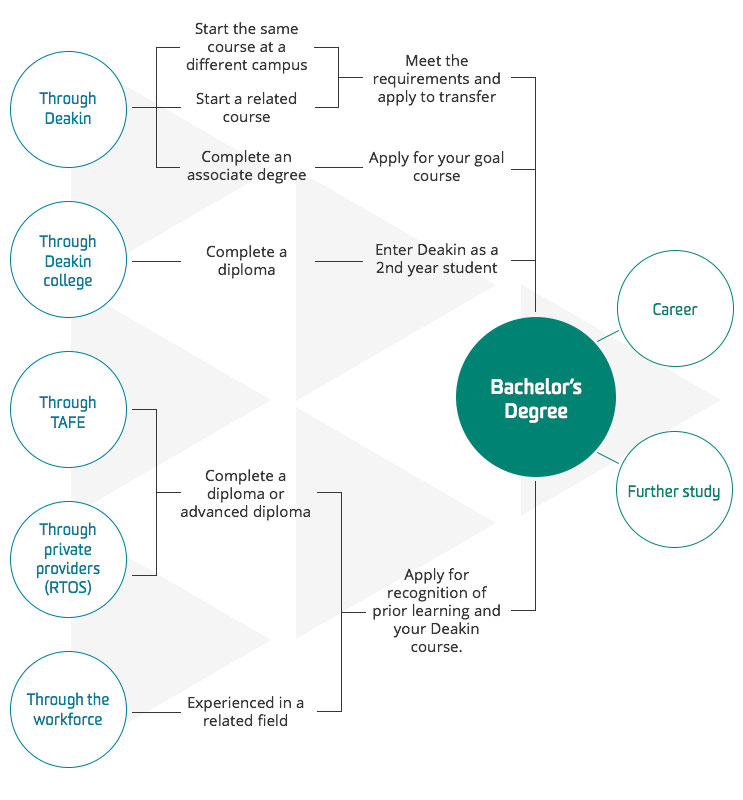 Tap image to expand
Disclaimers:
Through Deakin College and TAFE: Completion of diploma and minimum academic requirements apply to enter Deakin University.
Through Deakin: Transfers within Deakin are subject to availability and meeting minimum academic requirements.
Career outcomes
The structure, content and assessment in the degree enables the development of professional skills, evidenced in a portfolio of news artefacts by which graduates demonstrate their employability. Graduates can create and edit word, sound and vision to craft stories, news, and features for delivery via print, radio, television or multimedia newsrooms.
Journalism graduates typically find employment in small and large news organisations. They are also equipped to work in many other fields where critical thinking, strong communication skills and a talent for understanding the news matter.
The complementary focus in the course on other communication disciplines prepares students for cross-disciplinary careers in fields such as media policy and management, politics, research, and a variety of media business-oriented consulting roles. In addition, the course structure allows students to complete six elective units which students can use to extend professional knowledge and skills to maximise their employment opportunities.
For more information go to DeakinTALENT
Course learning outcomes
Deakin's graduate learning outcomes describe the knowledge and capabilities graduates can demonstrate at the completion of their course. These outcomes mean that regardless of the Deakin course you undertake, you can rest assured your degree will teach you the skills and professional attributes that employers value. They'll set you up to learn and work effectively in the future.
Deakin Graduate Learning Outcomes

Course Learning Outcomes

Discipline specific knowledge and capabilities

Demonstrate theoretical and practical knowledge of journalism through analysing, applying and communicating the key disciplinary principles and concepts.

Communication

Demonstrate communication skills in accordance with journalistic standards to be able to conduct interviews, write, produce and present stories for print, broadcast and online media in a style appropriate for the specific publication and audience.

Digital literacy

Conduct research for news and current affairs and analyse, synthesise and disseminate information using a range of technologies, including social media, for a variety of local and global audiences.

Critical thinking

Select, critically analyse and evaluate information relating to the construction of news stories and demonstrate a critical awareness of different publication styles and media audiences in Australia and internationally.

Problem solving

In the context of newsgathering and production, respond to journalistic challenges including unpredictable and sometimes complex problems and situations and generate pragmatic and creative solutions.

Self-management

Demonstrate the ability to reflect on knowledge acquisition and skills development and how these relate to career aspirations and the development of a professional identity which is responsive to change in work environments journalistic practice.

Teamwork

Work collaboratively and constructively to achieve team goals and foster effective relationships with the team.

Global citizenship

Employ relevant legal, ethical and cultural knowledge when engaging in journalistic practice in a range of diverse cultural, social and political environments domestically and internationally.

Approved by Faculty Board January 2017
Still haven't found what you are looking for?