Key facts
3 years full-time or part-time equivalent
Key dates
Direct applications to Deakin for Trimester 1 2019 close 17 February 2019

Current Deakin Students
To access your official course details for the year you started your degree, please visit the handbook
Course information
Technology is an important driver to address 21st century problems. This course combines IT skills with design knowledge to build technologically astute graduates who can negotiate, adapt and deliver solutions in a changing world. In this Digital Technologies course we combine strong foundations in design thinking and strategies with the technical skills required to delve into software design, user interface design and design for augmented and virtual realities. This supports employment outcomes that differ from those of traditional IT or creative arts degrees.
Read More
Course structure
To qualify for the award of Bachelor of Design (Digital Technologies) a student must complete 24 credit points including:
15 x core units (totalling 16 credit points)
2 x course elective units
6 x open elective units
No more than 12 credit points at level 1
Academic Integrity AAI018
Academic Integrity (0-credit-point compulsory unit)
Units
Level 1
Plus two 2 course elective units
Level 2
Plus three open electives
Level 3
Plus three open electives
Course electives
Students to select 2 of:
Key information
Award granted
Bachelor of Design (Digital Technologies)
Year
2019 course information
VTAC code
1400510501 - Burwood (Melbourne), Commonwealth Supported Place (HECS)
Approval status
This course is approved by the University under the Higher Education Standards Framework.
Australian Quality Framework (AQF) recognition
The award conferred upon completion is recognised in the Australian Qualifications Framework at Level 7.
Campuses by intake
Campus availability varies per trimester. This means that a course offered in Trimester 1 may not be offered in the same location for Trimester 2 or 3. Read more to learn where this course will be offered throughout the year.
Trimester 1 - March
Start date: March
Available at:
Trimester 2 - July
Start date: July
Available at:
Deakin splits the academic year into three terms, known as trimesters. Most students usually undertake two trimesters each year (March-June, July-November).
Additional course information
Course duration - additional information
Course duration may be affected by delays in completing course requirements, such as accessing or completing work placements.
Mandatory student checks
Any unit which contains work integrated learning, a community placement or interaction with the community may require a police check, Working with Children Check or other check.
Participation requirements
Reasonable adjustments to participation and other course requirements will be made for students with a disability. Click here for more information.
Work experience
Elective units may provide the opportunity for Work Integrated Learning experiences.
Entry information
Deakin University offers admission to undergraduate courses through a number of Admission categories. In all categories of admission, selection is based primarily on academic merit as indicated by an applicant's previous academic record.
All applicants must meet the minimum English language requirements.
Entry for applicants with recent secondary education (previous three years) will be based on their performance in a Senior Secondary Certificate of Education, with pre-requisite units 3 and 4; a study score of at least 25 in English EAL (English as an additional language) or 20 in English other than EAL.
Applicants will be selected in accordance with the published Australian Tertiary Admission Rank (ATAR) for that year.
Refer to the VTAC Guide for the latest pre-requisite information www.vtac.edu.au
Entry for applicants with previous Tertiary, VET, life or work experience will be based on one their performance in:
a Certificate IV in a related discipline OR
a Diploma in any discipline or 50% completion of a Diploma in a related discipline OR
successful completion of relevant study at an accredited higher education institution equivalent to at least two Deakin University units OR
other evidence of academic capability judged to be equivalent including relevant work or life experience
All Applicants seeking admission to the Bachelor of Design (Digital Technologies) will be required to complete a portfolio of work presented to a satisfactory standard.
Download our Folio-guide document to learn more about folio submission.
To submit your folio please go to www.deakin.edu.au/communication-creative-arts/portfolio-applications
For more information on the Admission Criteria and Selection (Higher Education Courses) Policy visit the Deakin Policy Library.
Credit for prior learning
The University aims to provide students with as much credit as possible for approved prior study or informal learning which exceeds the normal entrance requirements for the course and is within the constraints of the course regulations. Students are required to complete a minimum of one-third of the course at Deakin University, or four credit points, whichever is the greater. In the case of certificates, including graduate certificates, a minimum of two credit points within the course must be completed at Deakin.

You can also refer to the Credit for Prior Learning System which outlines the credit that may be granted towards a Deakin University degree and how to apply for credit.
Fee information
Estimated tuition fee - full-fee paying place
Not applicable
Estimated tuition fee - (CSP)?
The tuition fees you pay will depend on the units you choose to study as each unit has its own costs. The 'Estimated tuition fee' is provided as a guide only based on a typical enrolment of students undertaking the first year of this course. The cost will vary depending on the units you choose, your study load, the time it takes to complete your course and any approved Credit for Prior Learning you have.
Each unit you enrol in has a credit point value. The 'Estimated tuition fee' is calculated by adding together 8 credit points of a typical combination of units for that course. Eight credit points is used as it represents a typical full-time enrolment load for a year.
You can find the credit point value of each unit under the Unit Description by searching for the unit in the Handbook.
Learn more about fees and available payment options.
Scholarship options
A Deakin scholarship could help you pay for your course fees, living costs and study materials. If you've got something special to offer Deakin - or maybe you just need a bit of extra support - we've got a scholarship opportunity for you. Search or browse through our scholarships
Entry pathways
View pathways into the Bachelor of Design (Digital Technologies) with our pathways finder.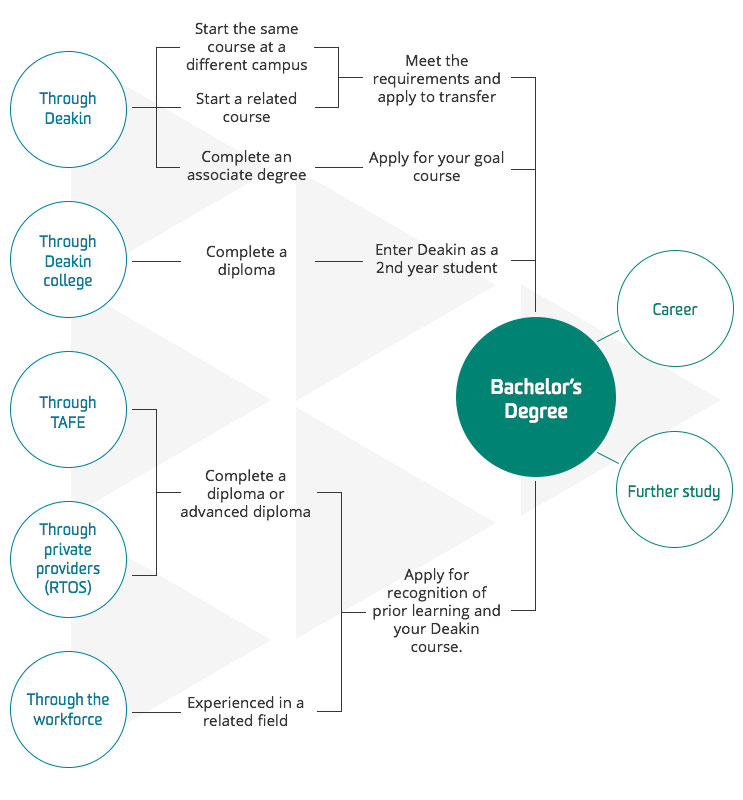 Tap image to expand
Disclaimers:
Through Deakin College and TAFE: Completion of diploma and minimum academic requirements apply to enter Deakin University.
Through Deakin: Transfers within Deakin are subject to availability and meeting minimum academic requirements.
Faculty contact information
Arts and Education Student Services and Enrolment Enquiries
Burwood (Melbourne)
Tel 03 9246 8100
artsed@deakin.edu.au
Career outcomes
Our graduates are open to many career opportunities, in creative agencies, advertising and design studios, print houses and corporate companies. Digital Technologies graduates will have highly-technological skills relevant to UX design, web design, digital design and immersive design which are highly sought after by employers.
For more information go to DeakinTALENT
Course learning outcomes
Deakin's graduate learning outcomes describe the knowledge and capabilities graduates can demonstrate at the completion of their course. These outcomes mean that regardless of the Deakin course you undertake, you can rest assured your degree will teach you the skills and professional attributes that employers value. They'll set you up to learn and work effectively in the future.
Deakin Graduate Learning Outcomes

Course Learning Outcomes

Discipline specific knowledge and capabilities

Utilize agile, practical and theoretical proficiencies in the unified application of digital design technologies for information, immersion and augmentation. Graduates will be able to meet client requirements in a rapidly changing industry setting.

Communication

Interpret and transmit ideas and interactions employing specific language, concepts and technologies to response to intelligent digital application scenarios.

Digital literacy

Utilize theoretical knowledge and practical skills to evaluate digital applications with regard to software development.

Critical thinking

Develop skills in critical thinking and the analytical evaluation of digital applications. Creatively engage with a range of strategies to demonstrate professional prototyping and industry outcomes.

Problem solving

Utilize design thinking methods to empathise, analyse, ideate, prototype and test complex interactive, augmented and human centred design products.

Self-management

Initiate autonomous and self-directed management techniques; demonstrating professional responsibility and accountability to a wide range of digital applications.

Teamwork

Lead, deliver and perform within a collaborative team to produce broad professional outcomes within a multidisciplinary and agile creative environment.

Global citizenship

Critically engage designs capacity to act as an agent of change in multiple contexts. To identify and develop proposals for personal and corporate social, cultural and ethical responsibilities in a global and domestic context

Approved by Faculty Board March 2017
Study design at Deakin and shape your future
Still haven't found what you are looking for?