Key facts
4 years full time or part-time equivalent
Current Deakin Students
To access your official course details for the year you started your degree, please visit the handbook
Course information
Explore the nature of crime and the science behind the collection, examination and presentation of evidence with this combined degree in criminology and forensic science. You'll discover what's behind criminal behaviour, learn valuable courtroom skills and get hands-on experience examining evidence in simulated crime scenes.
Criminology is the study of crime and the motivations behind criminal behaviour. Forensic science is an applied science concerned with the law and legal proceedings and can include specialist areas such as crime scene investigation, forensic medicine and lab sciences.
Led by a team of highly experienced criminology and forensic science experts, you'll learn about the many interrelated concepts that underpin these professional areas where the law meets science.
The combined degree draws from both the arts and science disciplines. It's designed to give you a broad appreciation of the professional, social, economic and cultural contexts of why crimes are committed and teach you how to examine evidence for the purposes of legal proceedings.
In the forensic science stream you can choose to focus your studies by completing a major sequences in either Forensic Biology or Forensic Chemistry. The course covers forensic chemistry and toxicology including trace chemical evidence, arson and explosives investigations, analysis of illicit drugs and forensic toxicology reporting. Our purpose-built crime scene facility lets you examine evidence and identify illegal products and endangered species. You'll also learn how to apply forensic analysis including chemical, biological and physical techniques.
In the criminology stream you'll take a close look at the nature of crime, investigating why crimes are committed. You'll explore the various theoretical approaches that shape our understanding of crime in contemporary society and how communities respond to criminal behaviour. You'll examine the criminal justice system from a sociological perspective, explore crime prevention and security, criminal and civil law and the laws of evidence.
This double degree prepares you for careers in criminology, forensic science and forensic criminology. You might choose to work in crime prevention, community development, security, policing, corrections, military services or criminal justice research. Other specialist areas you can explore include forensic sociology, criminal psychology and forensic investigation.
Units in the course may include assessment hurdle requirements.
Read More
Course structure
To complete the Bachelor of Forensic Science/Bachelor of Criminology, students must attain 32 credit points. Most units (think of units as 'subjects') are equal to 1 credit point. So that means in order to gain 32 credit points, you'll need to study 32 units (AKA 'subjects') over your entire degree. Most students choose to study 4 units per trimester, and usually undertake two trimesters each year.
Students will undertake 16 credit point in the Faculty of Science, Engineering and Built Environment and 16 credit points in the Faculty of Arts and Education course-grouped units. Course requirements for both the Bachelor of Forensic Science (S324) and Bachelor of Criminology (A329) must be satisfied.
Core
Bachelor of Forensic Science
Core Units
Students must complete a major sequence in either Forensic Biology or Forensic Chemistry on top of the core unit requirements.
# Must have successfully completed STP010 Introduction to Work Placements (0 credit point unit)
---
Bachelor of Criminology units
* ACR212, ACR213 Trimester 1 (alternate years 2014, 2016) and trimester 3 (alternate years 2015, 2017)
** ACR210, ACR211 Trimester 3 (alternate years 2014, 2016) and trimester 1 (alternate years 2015, 2017)
Electives
Select from a range of elective units offered across many courses. In some cases you may even be able to choose elective units from a completely different discipline area (subject to meeting unit requirements).
Major Sequences
Bachelor of Forensic Science major sequences
Refer to the details of each major sequence for availability.
Key information
Award granted
Bachelor of Forensic Science / Bachelor of Criminology
Year
2017 course information
VTAC code
1400315561 - Waurn Ponds (Geelong), Commonwealth Supported Place (HECS)
Approval status
This course is approved by the University under the Higher Education Standards Framework.
Australian Quality Framework (AQF) recognition
The award conferred upon completion is recognised in the Australian Qualifications Framework at Level 7.
Campuses by intake
Campus availability varies per trimester. This means that a course offered in Trimester 1 may not be offered in the same location for Trimester 2 or 3. Read more to learn where this course will be offered throughout the year.
Trimester 1 - March
Start date: March
Available at:
Trimester 2 - July
Start date: July
Available at:
Deakin splits the academic year into three terms, known as trimesters. Most students usually undertake two trimesters each year (March-June, July-November).
Workload
You can expect to participate in a range of teaching activities each week. This could include classes, seminars, practicals and online interaction. You can refer to the individual unit details in the course structure for more information. You will also need to study and complete assessment tasks in your own time.
Entry information
Deakin University offers admission to undergraduate courses through a number of Admission categories.
In all categories of admission, selection is based primarily on academic merit as indicated by an applicant's previous academic record.
For more information on the Admission Criteria and Selection Policy visit The Guide.
Applicants should have successfully completed VCE or equivalent. Refer to the VTAC Guide for the latest pre-requisite information www.vtac.edu.au
Those aged 21 or over on 1 January and who do not hold VCE or equivalent should apply under Alternative Admission. This category is open to those who do not satisfy normal entrance requirements, but can demonstrate relevant work or life experience.
Fee information
Estimated tuition fee - full-fee paying place
Not applicable
Estimated tuition fee - (CSP)?
The tuition fees you pay will depend on the units you choose to study as each unit has its own costs. The 'Estimated tuition fee' is provided as a guide only based on a typical enrolment of students undertaking the first year of this course. The cost will vary depending on the units you choose, your study load, the time it takes to complete your course and any approved Credit for Prior Learning you have.
Each unit you enrol in has a credit point value. The 'Estimated tuition fee' is calculated by adding together 8 credit points of a typical combination of units for that course. Eight credit points is used as it represents a typical full-time enrolment load for a year.
You can find the credit point value of each unit under the Unit Description by searching for the unit in the Handbook.
Learn more about fees and available payment options.
Scholarship options
A Deakin scholarship could help you pay for your course fees, living costs and study materials. If you've got something special to offer Deakin - or maybe you just need a bit of extra support - we've got a scholarship opportunity for you. Search or browse through our scholarships
Career outcomes
As a graduate of this course, you may find employment opportunities as a forensic scientist, criminologist or related role, in both the public and private sector, including areas such as the forensic science industry, science-based industries, teaching, government agencies, state and federal police, ASIO, correctional services, community services, and private security industries.
Professional recognition
Graduates of this course are eligible to apply for membership of the Australian and New Zealand Forensic Science Society (ANZFSS). The Bachelor of Forensic Science component of the combined course is also accredited with the Chartered Society of Forensic Sciences.
Course learning outcomes
Deakin's graduate learning outcomes describe the knowledge and capabilities graduates can demonstrate at the completion of their course. These outcomes mean that regardless of the Deakin course you undertake, you can rest assured your degree will teach you the skills and professional attributes that employers value. They'll set you up to learn and work effectively in the future.
Please refer to the Course Learning Outcomes (CLOs) of the single degree.
Entry pathways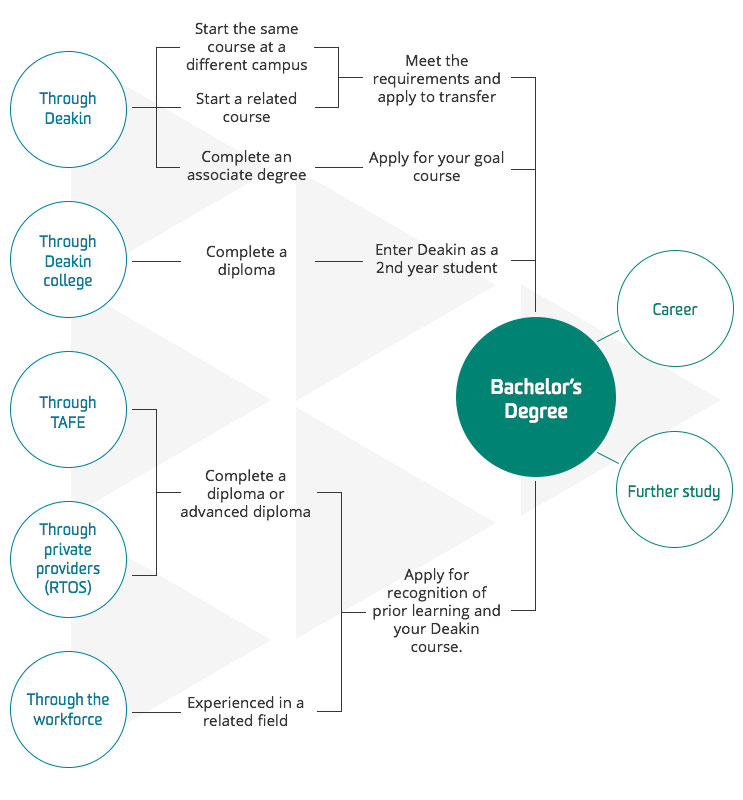 Tap image to expand
Disclaimers:
Through Deakin College and TAFE: Completion of diploma and minimum academic requirements apply to enter Deakin University.
Through Deakin: Transfers within Deakin are subject to availability and meeting minimum academic requirements.
Alternative exits
Credit for prior learning
The Faculty may give credit towards a BSc for previous tertiary study and other approved forms of post-secondary study or experience. This previous study need not have led to a complete qualification; for example, a student may be given credit after completing the first year of a course at another institution. All applications for advanced standing must be made initially to the Selection/Enrolment Officer who will advise students of the necessary procedures.

All applications are considered on merit and usually no credit will be given for subjects/courses/units completed more than seven years prior to the request. For the BSc the maximum credit for prior learning that can be granted is 16 credit points. This may include up to 8 credits for non-science studies.
Faculty contact information
Still haven't found what you are looking for?