Key facts
Overall IELTS score of 6.5 with no band less than 6.0 (or equivalent). More information is available at www.ielts.org
Current Deakin Students
To access your official course details for the year you started your degree, please visit the handbook
Course information
If you are keen to extend what you have learnt in your Bachelor of Public Health and Health Promotion or Bachelor of Health Sciences, our honours year program will take your knowledge to the next level. You will gain excellent research skills, boost your employability and pave the way for research candidature in higher degrees (MSc, MA and PhD).
Study in health sciences is designed to train you in high standards of dynamic health care, policy and systems. Many roles that support the contemporary health sector are multi-disciplinary, so to deliver the health systems of today and the future, you need a broad set of skills. The honours year builds on the foundation of your undergraduate degree and prepares you for further research and study in this area.
During your honours studies you will develop high level skills in information retrieval and the critical analysis of published material. You will learn how to develop conceptual frameworks and methodological procedures for the collection, analysis and interpretation of data and become familiar with significant ethical and professional issues relating to this area of work.
You will also produce a thesis which will showcase your research and written communication skills. Research topics can be undertaken through the following research centres and clusters: Strategic Research Centre for Population Health; Health, Nature and Sustainability Research group; Health Promotion and Public Health; and Occupational Therapy and Disability.
By completing your honours year you will create pathway to higher degrees such as the MSc, MA and PhD. You can also choose to undertake specialist postgraduate studies in clinical exercise physiology, physiotherapy, medicine, dietetics and public health to name a few.
Careers exist in the areas of health promotion, disability and aged care, nutrition, family, social inclusion and environmental health – both at the local community level and on the global stage.
Read More
Course structure
To complete the Bachelor of Health Sciences (Honours) students must attain 8 credit points, including two coursework units in research methods and research issues and an independent research project. Part-time students are required to complete the coursework components in their first year of study.
Students are required to meet the University's academic progress and conduct requirements. Click here for more information.
Key information
Award granted
Bachelor of Health Sciences (Honours)
Year
2019 course information
Approval status
This course is approved by the University under the Higher Education Standards Framework.
Australian Quality Framework (AQF) recognition
The award conferred upon completion is recognised in the Australian Qualifications Framework at Level 8.
Campuses by intake
Campus availability varies per trimester. This means that a course offered in Trimester 1 may not be offered in the same location for Trimester 2 or 3. Read more to learn where this course will be offered throughout the year.
Trimester 1 - March
Start date: March
Available at:
Honours applications close 30 November 2018 to commence in 2019
Deakin splits the academic year into three terms, known as trimesters. Most students usually undertake two trimesters each year (March-June, July-November).
Additional course information
For detailed information, particularly with respect to the selection of areas of study and availability of appropriate supervision, students should consult the School of Health and Social Development Current Student Honours page.
Course duration - additional information
Course duration may be affected by delays in completing course requirements, such as accessing or completing work placements.
Mandatory student checks
There are no mandatory student checks required for this course
Workload
You should be able to commit 35 hours a week to your honours degree
Participation requirements
This course is run from Burwood. It is possible to VMP into sessions if not located near Burwood. There is a minimum of four compulsory sessions although more sessions are offered to help students in their Honours year.
Reasonable adjustments to participation and other course requirements will be made for students with a disability. Click here for more information.
Work experience
Due to the nature of Honours, students may have supervisors who are based in industry, which gives them a chance for work integrated learning. Even for students whose supervisors are based at Deakin, the form of work integrated learning takes the form of a research internship. In terms of data collection, this can involve interviews, focus groups or surveys, which may happen in the context of health and other services in which the students will be exposed to professional staff and associates carrying out their duties.
Entry information
Deakin University offers admission to undergraduate courses through a number of Admission categories. In all categories of admission, selection is based primarily on academic merit as indicated by an applicant's previous academic record.
All applicants must meet the minimum English language requirements.
Entry will be based on performance in:
a Bachelor degree or major in a related discipline with a WAM (Weighted Average Mark) of at least 65% in all level 3 and level 4 units (for Deakin awards) or final year units (for awards from other providers)
OR
other evidence of academic capability judged to be equivalent
For more information on the Admission Criteria and Selection (Higher Education Courses) Policy visit the Deakin Policy Library.
Fee information
Estimated tuition fee - full-fee paying place
The tuition fees you pay are calculated depending on the course you choose.
The 'Estimated tuition fee' is provided as a guide only based on a typical enrolment of students completing the first year of this course. The cost will vary depending on the units you choose, your study load, the length of your course and any approved Credit for Prior Learning you have.
Each unit you enrol in has a credit point value. The 'Estimated tuition fee' is calculated by adding together 8 credit points of a typical combination of units for that course. Eight credit points is used as it represents a typical full-time enrolment load for a year.
You can find the credit point value of each unit under the Unit Description by searching for the unit in the Handbook.
Learn more about fees and available payment options.
Scholarship options
A Deakin scholarship could help you pay for your course fees, living costs and study materials. If you've got something special to offer Deakin - or maybe you just need a bit of extra support - we've got a scholarship opportunity for you. Search or browse through our scholarships
Career outcomes
The type of careers this qualification leads to may include:
Program developer in physical health and nutrition
Health reform, policy and health promotion roles;
Family and community support;
Community Health Development Officer;
Refugee advocacy;
Community recreation officer
Disability services advocacy and development;
Food safety and development;
Health services management.
Course learning outcomes
Deakin's graduate learning outcomes describe the knowledge and capabilities graduates can demonstrate at the completion of their course. These outcomes mean that regardless of the Deakin course you undertake, you can rest assured your degree will teach you the skills and professional attributes that employers value. They'll set you up to learn and work effectively in the future.
| | |
| --- | --- |
| Graduate Learning Outcomes | Course Learning Outcomes |
| Discipline Specific knowledge and capabilities | Apply Health Sciences/Public Health and Health Promotion knowledge to formulate a testable research question; develop a conceptual framework and select the appropriate methodological procedures for the collection, analysis and interpretation of data; and disseminate research findings. |
| Communication | Communicate, defend and discuss all elements of the research project in the chosen field of study via oral and written means to a variety of audiences. |
| Digital Literacy | Select and use appropriate technologies to source, interpret, adapt, collate, analyse and disseminate relevant information to a variety of audiences. |
| Critical thinking | Critically evaluate and synthesise the literature in the chosen field of study; and interpret research findings in the context of the literature in the chosen field of study. |
| Problem Solving | Select and apply appropriate methodological principles and analytical techniques to answer a research question within the context of Health Sciences/Public Health and Health Promotion; and troubleshoot solutions to resolve complex problems associated with the research study. |
| Self-management | Produce a realistic timeline for the research project and demonstrate effective self-management skills, autonomy and accountability that contribute to the development of lifelong learning as a researcher within Health Sciences/Public Health and Health Promotion. |
| Teamwork | Collaborate and work effectively with specialists, peers, academics and others from a range of disciplines and backgrounds. |
| Global Citizenship | Engage in ethical and professional research practice whilst maintaining confidentiality, and respecting cultural sensitivities. |
How to apply
Apply direct to Deakin
Applications must be made directly to the University through the Applicant Portal. For information on the application process and closing dates, see the Apply web page. Please note that closing dates may vary for individual courses.
Apply through Deakin
---
Deakin International office or Deakin representative
---
Need more information on how to apply?
---
Entry pathways
This course provides a pathway to higher degree by research courses and other postgraduate coursework programs.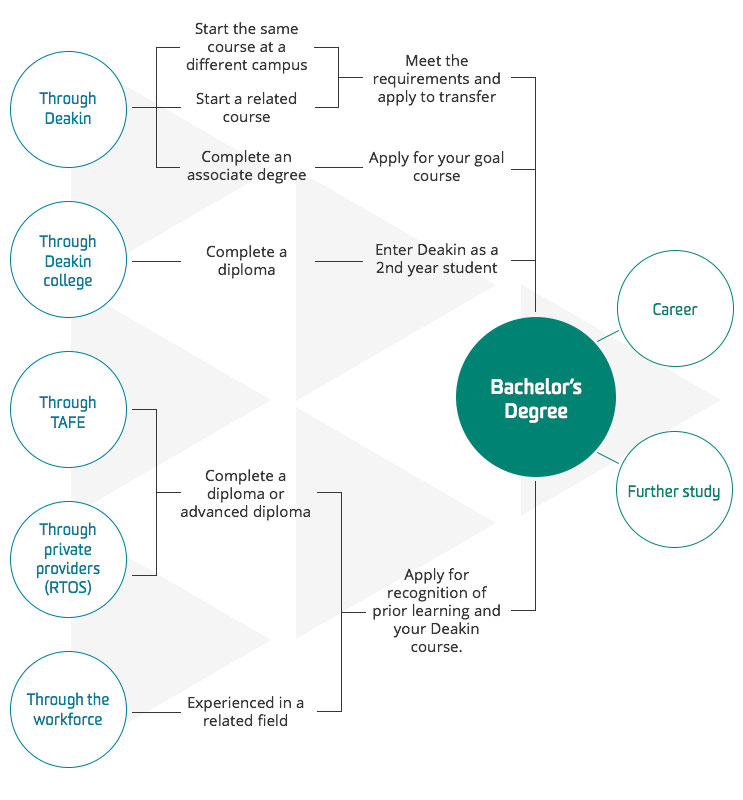 Tap image to expand
Disclaimers:
Through Deakin College and TAFE: Completion of diploma and minimum academic requirements apply to enter Deakin University.
Through Deakin: Transfers within Deakin are subject to availability and meeting minimum academic requirements.
Still haven't found what you are looking for?