Key facts
Overall IELTS score of 6.5 with no band less than 6.0 (or equivalent). More information is available at www.ielts.org.
1 year full-time or part-time equivalent
Current Deakin Students
To access your official course details for the year you started your degree, please visit the handbook
Course information
Deakin's IT honours program aims to provide you with a deep understanding of the discipline of Information Technology through focused research in your area of interest. Throughout the program you'll acquire valuable skills for life-long learning; an essential professional attribute in this ever-evolving field.
The coursework component of the honours program provides you with essential theoretical knowledge underpinning robust research, while the research project develops the practical skills necessary to investigate an area of interest through research exploration.
An honours degree will give you a competitive edge in the job market, and creates a pathway to further study and research. For more information on career outcomes for this course, please refer to the Bachelor of Information Technology.
Entry into the Bachelor of Information Technology (Honours) program requires that students have completed a Bachelor of Information Technology (or equivalent), and hold an overall level of academic performance of 70% or greater in their level 3 units. An alternative entry pathway to the Honours Program for consideration is the evidence of relevant work experience assessed through an interview process.
Read More
Course structure
To complete the Bachelor of Information Technology (Honours), students must attain 8 credit points.
The 8 credit points will include four 2 credit point units of study and completion of STP050 Academic Integrity (0-credit-point compulsory unit).
Students are required to meet the University's academic progress and conduct requirements. Click here for more information.
Key information
Award granted
Bachelor of Information Technology (Honours)
Year
2019 course information
Approval status
This course is approved by the University under the Higher Education Standards Framework.
Australian Quality Framework (AQF) recognition
The award conferred upon completion is recognised in the Australian Qualifications Framework at Level 8.
Campuses by intake
Campus availability varies per semester. This means that a course offered in Semester 1 may not be offered in the same location for Semester 2. Read more to learn where this course will be offered throughout the year.
Semester 1 - January
Start date: January
Available at:

Burwood (Melbourne)
Waurn Ponds (Geelong)
Semester 2 - July
Start date: July
Available at:

Burwood (Melbourne)
Waurn Ponds (Geelong)
Additional course information
Course duration - additional information
Course duration may be affected by delays in completing course requirements, such as accessing or completing work placements.
Participation requirements
Entry information
General admission requirements for entry into undergraduate courses for international students at Deakin are summarised in the undergraduate admission requirements table.
Some courses may have additional entry requirements.

Students must also meet the undergraduate English language requirements.
Entry will be based on performance in:
a Bachelor degree or major in a related discipline with a WAM (Weighted Average Mark) of at least 65% in all level 3 and level 4 units (for Deakin awards) or final year units (for awards from other providers) OR
other evidence of academic capability judged to be equivalent
IELTS / English language requirements
Please note that English language requirements exist for entry to this course and you will be required to meet the English language level requirement that is applicable in the year of your commencement of studies.
It is the students' responsibility to ensure that she/he has the required IELTS score to register with any external accredited courses. (more details)
For more information on the Admission Criteria and Selection (Higher Education Courses) Policy visit the Deakin Policy Library.
Fee information
Estimated tuition fee - full-fee paying place
The tuition fees you pay are calculated depending on the course you choose.
The 'Estimated tuition fee' is provided as a guide only based on a typical enrolment of students completing the first year of this course. The cost will vary depending on the units you choose, your study load, the length of your course and any approved Credit for Prior Learning you have.
Each unit you enrol in has a credit point value. The 'Estimated tuition fee' is calculated by adding together 8 credit points of a typical combination of units for that course. Eight credit points is used as it represents a typical full-time enrolment load for a year.
You can find the credit point value of each unit under the Unit Description by searching for the unit in the Handbook.
Learn more about fees and available payment options.
Scholarship options
A Deakin scholarship could help you pay for your course fees, living costs and study materials. If you've got something special to offer Deakin - or maybe you just need a bit of extra support - we've got a scholarship opportunity for you. Search or browse through our scholarships
Career outcomes
The Bachelor of Information Technology (Honours) will produce high quality graduates with the generic skills, theoretical knowledge, and specialised practical skills to either gain employment or to succeed in further study such as Higher Degrees by Research.
Course learning outcomes
Deakin's graduate learning outcomes describe the knowledge and capabilities graduates can demonstrate at the completion of their course. These outcomes mean that regardless of the Deakin course you undertake, you can rest assured your degree will teach you the skills and professional attributes that employers value. They'll set you up to learn and work effectively in the future.
| | |
| --- | --- |
| Deakin Graduate Learning Outcomes | Course Learning Outcomes |
| Discipline-specific knowledge and capabilities | Graduates will have advanced theoretical and technical knowledge in information technology. |
| Communication | Communicate effectively the design and outcomes of research using a range of verbal, graphical and written forms customised for diverse audiences. |
| Digital literacy | Utilise a range of digital technologies and information sources to discover, select, analyse, employ, evaluate, critique, and disseminate outcomes from the research project. |
| Critical thinking | Use critical and analytical thinking to identify problems and the design of solutions using established theories, models, constructs and practice. |
| Problem solving | Apply theoretical constructs, advanced skills and critical analysis to demonstrate well developed judgement adaptability and evaluation of solutions to research problems. |
| Self-management | Develop and apply knowledge and skills in creative ways to demonstrate advanced levels of autonomy, initiative and ethical behaviour in research. |
| Teamwork | Work independently and/or collaboratively within a research team, receiving advice and guidance from supervisor/s that contributes to achieving the outcomes of the Honours project. |
| Global citizenship | Apply scientific knowledge and skills with a high level of autonomy, judgement, responsibility and accountability in collaboration with stakeholders to articulate the place and importance of scientific inquiry in the local and global context. |
Approved by Faculty Board 7 June 2018
How to apply
Apply direct to Deakin
Applications must be made directly to the University through the Applicant Portal. For information on the application process and closing dates, see the Apply web page. Please note that closing dates may vary for individual courses.
Apply through Deakin
---
Deakin International office or Deakin representative
---
Need more information on how to apply?
---
Entry pathways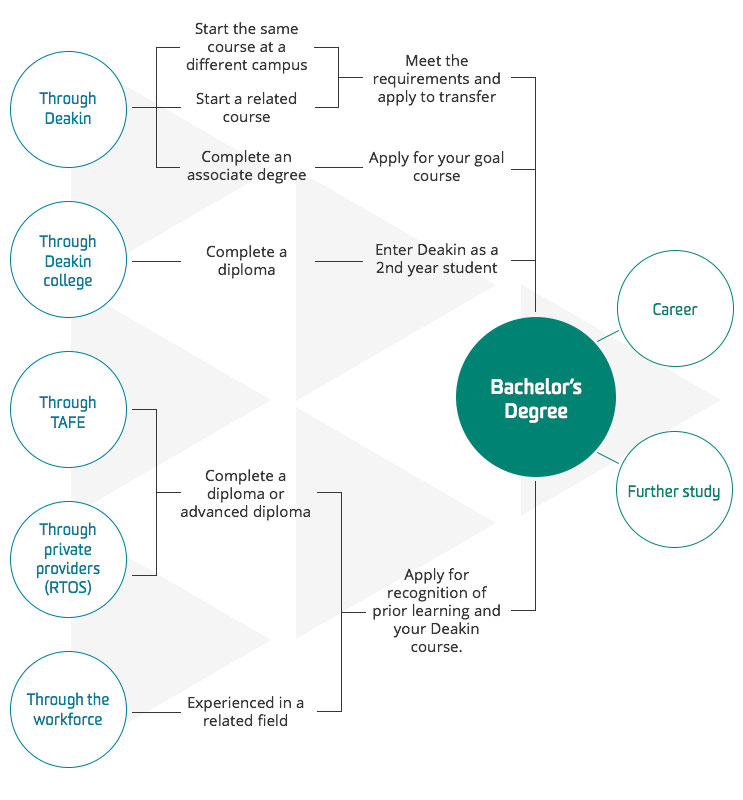 Tap image to expand
Disclaimers:
Through Deakin College and TAFE: Completion of diploma and minimum academic requirements apply to enter Deakin University.
Through Deakin: Transfers within Deakin are subject to availability and meeting minimum academic requirements.
Further study options
Graduates may wish to apply for further study in Higher Degrees by Research.
Credit for prior learning
If you have completed previous studies which you believe may reduce the number of units you have to complete at Deakin, indicate in the appropriate section on your application that you wish to be considered for credit for prior learning. You will need to provide a certified copy of your previous course details so your credit can be determined. If you are eligible, your offer letter will then contain information about your credit for prior learning.
Your credit for prior learning is formally approved prior to your enrolment at Deakin during the Enrolment and Orientation Program. You must bring original documents relating to your previous study so that this approval can occur.

You can also refer to the Credit for Prior Learning System which outlines the credit that may be granted towards a Deakin University degree.
Still haven't found what you are looking for?