Key facts
1 year full-time or part-time equivalent
Current Deakin Students
To access your official course details for the year you started your degree, please visit the handbook
Course information
Focusing on research, the honours year builds on the foundations established in your undergraduate degree. You will study a particular topic of professional interest in greater depth and create pathways to specialisations and further research or study. The Bachelor of Nursing (Honours) is a specialised year of study taken after the completion of a Bachelor of Nursing, entry to practice Master's degree or combined degrees.
For entry into senior nursing and midwifery roles there's now an increasing industry expectation for graduates with high-level research and evaluation skills. Honours offers you a competitive edge in the job market and is designed to provide you with the knowledge and research skills to undertake a postgraduate research degree, advanced professional training or to pursue diverse employment opportunities.
The School of Nursing and Midwifery offers research in areas influencing quality and patient safety in health care. These include: clinical risk and symptom management, chronic disease management, effective health delivery, health care ethics, decision making, aged care, midwifery and translational research.
Throughout this course you will gain a deep understanding of the philosophies, ethics and principles of health care research; knowledge of a range of research approaches; skills in data management, methods and tools for research practice; and skills in planning, implementing and reporting research studies.
This course will give you an understanding of how to develop a research proposal, from the identification of a research issue and literature review through to writing and submitting the proposal for approval by an ethics committee. You will undertake a research project and an individual research thesis in the area of nursing practice and develop evaluation and research skills in nursing practice and health service delivery.
You will be qualified for rewarding roles in all areas of nursing including acute care/sub-acute care, emergency, aged care, paediatrics and rehabilitation; in hospitals, government departments, district health services, the education sector, business and private industry. Alternatively, you may decide to undertake a research degree such as a research Masters or Doctor of Philosophy (PhD).
Read More
Course structure
To complete the Bachelor of Nursing (Honours) students must attain 8 credit points, including two coursework units in research methods and research planning and two units comprising an independent research project.
Core units
Full time enrolment - two trimesters
Trimester 1
Trimester 2
Part time enrolment - four trimesters (not available to international students)
Students may be able to complete in less than four trimesters - please contact your course enrolment officer.
Year 1 - Trimester 1
Year 1 - Trimester 2
Year 2 - Trimester 1
Year 2 - Trimester 2
Students commencing in Trimester 2 - part time only - four trimesters

Year 1 - Trimester 2
Year 2 - Trimester 1
Year 2 - Trimester 2
Year 3 - Trimester 1
Key information
Award granted
Bachelor of Nursing (Honours)
Year
2019 course information
Approval status
This course is approved by the University under the Higher Education Standards Framework.
Australian Quality Framework (AQF) recognition
The award conferred upon completion is recognised in the Australian Qualifications Framework at Level 8.
Campuses by intake
Campus availability varies per trimester. This means that a course offered in Trimester 1 may not be offered in the same location for Trimester 2 or 3. Read more to learn where this course will be offered throughout the year.
Trimester 1 - March
Start date: March
Available at:

Burwood (Melbourne)
Waterfront (Geelong)
Warrnambool
Trimester 2 - July
Start date: July
Available at:

Burwood (Melbourne)
Waterfront (Geelong)
Deakin splits the academic year into three terms, known as trimesters. Most students usually undertake two trimesters each year (March-June, July-November).
Additional course information
For detailed information, particularly with respect to the selection of areas of study and availability of appropriate supervision, students should consult the School of Nursing and Midwifery.
Inherent requirements
Essential knowledge, skills and capabilities are required to undertake and successfully complete the undergraduate nursing and midwifery courses and to practice safely as a registered nurse and/or midwife. The inherent requirements of the course are listed at School of Nursing and Midwifery Undergraduate Courses: Inherent Requirements
Course duration - additional information
Course duration may be affected by delays in completing course requirements, such as accessing or completing clinical placements.
Mandatory student checks
Any unit with a work integrated learning component, a community placement or interaction with the community may require a police check, working with children check or other check. Refer the relevant unit guide.
Workload
You should be able to commit 35 hours a week to your honours degree.
Work experience
The School of Nursing and Midwifery conducts its research through the Centre for Quality and Patient Safety Research (QPS). Collaborative research partnerships with health services facilitate knowledge translation particularly in relation to clinical care, quality and patient safety that directly impacts the quality, safety and experience of patient care.
Entry information
Deakin University offers admission to undergraduate courses through a number of Admission categories.
In all categories of admission, selection is based primarily on academic merit as indicated by an applicant's previous academic record.
For more information on the Admission Criteria and Selection Policy visit the Deakin Policy Library.
Prospective students should note that selection as an Honours student depends not only on academic suitability, but also on the availability of a suitable supervisor for the research area, and the match of the research with the philosophy of nursing at Deakin.
Applicants will be required to have completed the Bachelor or Nursing, Bachelor of Nursing (Preregistration) or Bachelor of Nursing Studies (Post-registration) with at least a mid-credit average to be eligible for entry.
Applicants from other universities will be evaluated on an individual basis, but will be required to have completed a Bachelor of Nursing program and have achieved at least a mid-credit average to be eligible for entry.
No credit for prior learning will be given to applicants entering the honours sequence. Students who have already completed substantial research should apply for the masters preliminary program rather than for honours.
Fee information
Estimated tuition fee - full-fee paying place
Not applicable
Estimated tuition fee - (CSP)?
The tuition fees you pay will depend on the units you choose to study as each unit has its own costs. The 'Estimated tuition fee' is provided as a guide only based on a typical enrolment of students undertaking the first year of this course. The cost will vary depending on the units you choose, your study load, the time it takes to complete your course and any approved Credit for Prior Learning you have.
Each unit you enrol in has a credit point value. The 'Estimated tuition fee' is calculated by adding together 8 credit points of a typical combination of units for that course. Eight credit points is used as it represents a typical full-time enrolment load for a year.
You can find the credit point value of each unit under the Unit Description by searching for the unit in the Handbook.
Learn more about fees and available payment options.
Scholarship options
A Deakin scholarship could help you pay for your course fees, living costs and study materials. If you've got something special to offer Deakin - or maybe you just need a bit of extra support - we've got a scholarship opportunity for you. Search or browse through our scholarships
Career outcomes
After successfully completing the Bachelor of Nursing (Honours), you will be well prepared to build on your profile as a Registered Nurse, leading quality care initiatives and evidence based practice. You will have improved entry into a range of areas including quality management, policy, education, research and clinical practice.
Professional recognition
Honours is not a professional accreditation requirement. Honours offers students a competitive edge in the job market and is designed to provide nurses with the knowledge and research skills to undertake a postgraduate research degree, advanced professional training or to pursue diverse employment opportunities.
Course learning outcomes
Deakin's graduate learning outcomes describe the knowledge and capabilities graduates can demonstrate at the completion of their course. These outcomes mean that regardless of the Deakin course you undertake, you can rest assured your degree will teach you the skills and professional attributes that employers value. They'll set you up to learn and work effectively in the future.
| | |
| --- | --- |
| Graduate Learning Outcomes | Course Learning Outcomes |
| Discipline Specific knowledge and capabilities | Apply cognitive and technical skills combined with a systematic and coherent body of knowledge to develop a conceptual framework for research inquiry, select the appropriate methodology and procedures for the collection, analysis and interpretation of data; and disseminate research findings. |
| Communication | Autonomously communicate research outcomes to the professional community, defend and discuss all elements of the research project in the chosen field of study via oral and written means to academics, specialists and others. |
| Digital Literacy | Autonomously undertake research, comprehend and evaluate new information, concepts and evidence to locate, select and collect appropriate technologies to source, interpret, adapt, collate, analyse and disseminate relevant information to an academic audience and specialists. |
| Critical thinking | Critically and constructively, evaluate, critique and synthesise the literature in the chosen field of study; select and apply appropriate methodological principles suitable for the research project; select and apply appropriate analytical techniques to test the hypothesis; and interpret, compare and contrast study findings to the wider literature in the chosen field of study. |
| Problem Solving | Contribute to advancement of knowledge in the field of health care policy and delivery by identifying a suitable and novel research question based on the literature that can be completed within the given timeframe; conducting the research to address the question in an appropriate, realistic and ethical manner. |
| Self-management | Identify own learning needs and seek additional knowledge and/or information as required to produce a realistic timeline for the research project that incorporates preparing a literature review, obtaining ethical approval (if applicable), sourcing and/or collecting and analysing data, and disseminating research findings. |
| Teamwork | Collaborate effectively as a member of a research and professional team of specialists, peers, academics and others from a range of disciplines and backgrounds. |
| Global Citizenship | Apply ethical standards governing research and professional practice in the discipline whilst maintaining confidentiality, and respecting inclusive, cultural sensitivities. |
How to apply
Apply direct to Deakin
Applications can be made directly to the University through the Applicant Portal. Please note that closing dates may vary for individual courses.
Apply through Deakin
---
Need more information on how to apply?
For more information on the application process and closing dates, visit the how to apply page.
---
Register your interest to study at Deakin
---
Entry pathways
Students who achieve a high-grade Honours result can apply for credit for the research component if they decide to progress to a masters degree. A high-grade Honours result also gives students the option of applying for entry to a PhD program.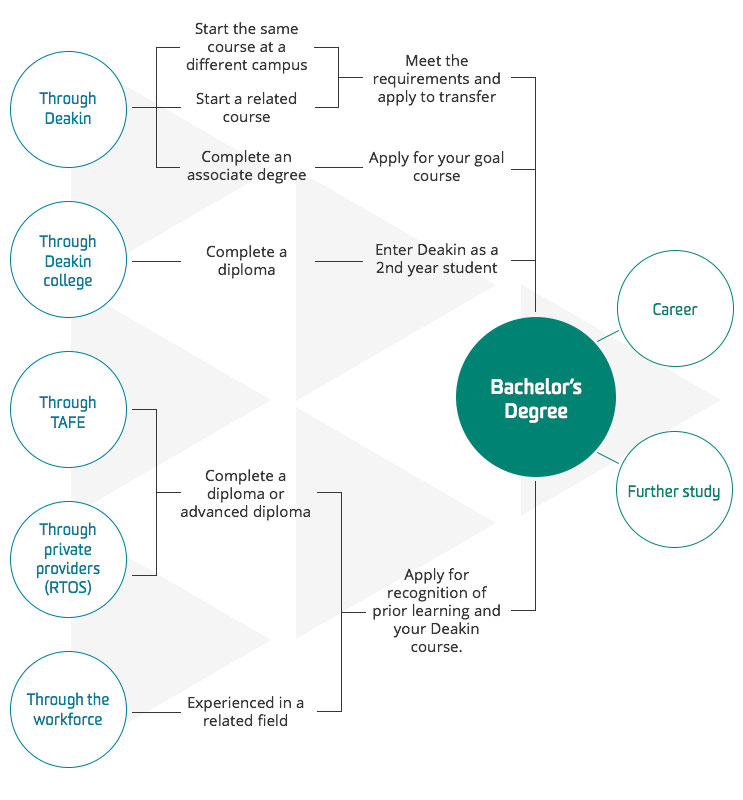 Tap image to expand
Disclaimers:
Through Deakin College and TAFE: Completion of diploma and minimum academic requirements apply to enter Deakin University.
Through Deakin: Transfers within Deakin are subject to availability and meeting minimum academic requirements.
Credit for prior learning
Credit for Prior Learning will not normally be given to applicants entering the honours sequence.
Faculty contact information
Still haven't found what you are looking for?