Key facts
IELTS overall score of 6.5 (with no band score less than 6.0) or equivalent
Current Deakin Students
To access your official course details for the year you started your degree, please visit the handbook
Course information
Get the qualifications you need to start a new career in the property industry. Deakin's Graduate Certificate of Property will prepare you for a range of roles in the property sector.
The course is designed to provide a broad understanding of property and property valuation, valuing income producing properties, managing real estate and property development. The four units of study are aimed at helping you get what you need to start a new career in the property industry. Deakin's Graduate Certificate of Property will prepare you for a range of roles including property development and property management.
The Graduate Certificate of Property has been developed for professionals such as architects, surveyors and construction managers looking to broaden their careers in the property industry. The course is also ideal for graduates with degrees in commerce, management or law disciplines wishing to move into the property field.
The course aims to develop and refine your core professional skills, particularly related to the fields of property development and property management. You will establish an understanding of the various stakeholders in the property and real estate market, and learnto develop and manage property.
The qualification will allow you to articulate into the Graduate Diploma of Property.
Read More
Course structure
To complete the Graduate Certificate of Property, students must attain a total of 4 credit points of core units. Most units (think of units as 'subjects') are equal to 1 credit point.
Core Units
Select 4 credit points from:
Each unit below is delivered on FutureLearn and takes approximately 10 weeks to complete in addition to assessment tasks.
These units are broken down into easily-manageable two-week blocks, allowing you the freedom to fit learning around your work, family and lifestyle.
Key information
Award granted
Graduate Certificate of Property
Year
2019 course information
Level
Postgraduate (Graduate Certificate and Graduate Diploma)
Approval status
This course is approved by the University under the Higher Education Standards Framework.
Australian Quality Framework (AQF) recognition
The award conferred upon completion is recognised in the Australian Qualifications Framework at Level 8.
Campuses by intake
Campus availability varies per trimester. This means that a course offered in Trimester 1 may not be offered in the same location for Trimester 2 or 3. Read more to learn where this course will be offered throughout the year.
Trimester 2 - July
Start date: July
Available at:
Not offered in Trimester 3
Additional course information
Mandatory student checks
Any unit which contains work-integrated learning, a community placement or interaction with the community may require a police check, working with children check or other check. Refer to the relevant unit guide.

Course duration - additional information
Course duration may be affected by delays in completing course requirements, such as accessing or completing work placements.
Mandatory student checks
Units which contain work integrated learning, a community placement or interaction with the community may require a police check, working with children check or other check. These requirements will be detailed in unit guides upon enrolment.
Workload
As a student in the Faculty of Business and Law, you can expect to participate in a range of teaching activities each week. This could include classes, seminars, practicals and online interaction. You can refer to the individual unit details in the course structure for more information. You will also need to study and complete assessment tasks in your own time.
Work experience
This course does not require students to complete compulsory work integrated learning units.
Try this course for free
Interested in a free taster of this course?
The first two-week block of this course is available free on FutureLearn, an easy-to-use online learning platform. Try it out and discover just how flexible and rewarding online learning with Deakin can be. You've got nothing to lose!
Entry information
Deakin University offers admission to postgraduate courses through a number of Admission categories.
In all categories of admission, selection is based primarily on academic merit as indicated by an applicant's previous academic record.
All applicants must meet the minimum English language requirements.
IELTS / English language requirements
Please note that English language requirements exist for entry to this course and you will be required to meet the English language level requirement that is applicable in the year of your commencement of studies.
It is the students' responsibility to ensure that she/he has the required IELTS score to register with any external accredited courses.
Entry will be based on performance in:

Bachelor degree in a different discipline* OR
Two years relevant work experience
* Completion of a major sequence in property or real estate will classify the degree as the same discipline.
For more information on the Admission Criteria and Selection (Higher Education Courses) Policy visit Deakin Policy Library
Fee information
Fee rate
$2,910 per credit point. Cloud Campus only
Find out more about fees
The tuition fees you pay are calculated depending on the course you choose.
The cost of this course will vary depending on your study load, the length of your course and any approved Credit for Prior Learning you have. The fee rate shown is the cost per credit point studied in 2019. A typical enrolment load for a Graduate Certificate is four credit points.
You can find the credit point value of each unit under the Unit Description by searching for the unit in the Handbook.
Learn more about fees and available payment options.
Scholarship options
A Deakin scholarship might change your life. If you've got something special to offer Deakin – or you just need the financial help to get you here – we may have a scholarship opportunity for you.
Postgraduate bursary
If you're a Deakin alumni commencing a postgraduate award course, you may be eligible to receive a 15% reduction per unit on your enrolment fees. Your spouse and members of your immediate family may also be eligible to apply for this bursary.
Career outcomes
Career paths available for graduates with a qualification in property include, but are not limited to:
Asset Manager
Business Broker
Investment Trust Manager
Portfolio Manager
Property Consultant
Property Developer
Property Finance Consultant
Property Manager
Property Researcher
Rural Property Broker/Consultant
Sales and leasing Negotiator
Valuer
Course learning outcomes
Deakin's graduate learning outcomes describe the knowledge and capabilities graduates can demonstrate at the completion of their course. These outcomes mean that regardless of the Deakin course you undertake, you can rest assured your degree will teach you the skills and professional attributes that employers value. They'll set you up to learn and work effectively in the future.
| | |
| --- | --- |
| Graduate Learning Outcomes | Course Learning Outcomes |
| Discipline specific knowledge and capabilities | Employ specialised knowledge apply professional, legal and ethical standards in the fields of property development, investment, property valuation, property management and sustainable construction, in private and commercial real estate markets, both nationally and internationally. |
| Communication | Prepare and communicate (orally, visually and in writing) complex property information and analysis to a range of stakeholders including investors, developers, regulators, clients, and colleagues in order that informed decisions may be made. |
| Digital literacy | Use a range of advanced digitally based technologies in professional practice and scholarly activities within the property related environment. |
| Critical thinking | Critically analyse, evaluate and synthesise complex data and specialist information on property markets and indicators for the planning, design and development of commercial, industrial, retail, residential property and other specialist property, e.g. property for educational purposes. |
| Problem solving | Apply property theories and concepts to evaluate and appraise methodologies to critically identify and develop sustainable solutions and strategies for a diverse range of complex and authentic problems in property industry. |
| Self-management | Demonstrate autonomy, well developed judgment and responsibility to undertake self-directed work and learning relating to specialist property concepts. |
| Teamwork | Collaborate with others to undertake research which examines and evaluate contemporary issues in property. |
| Global citizenship | Examine and evaluate the ethical, sustainability, economic and global factors that impact the interconnected theories and principles of property development, investment, construction, management, and valuation. |
| | |
How to apply
Apply direct to Deakin
Applications must be made directly to the University through the Applicant Portal. For information on the application process and closing dates, see the Apply web page. Please note that closing dates may vary for individual courses.
Apply through Deakin
---
Deakin International office or Deakin representative
---
Need more information on how to apply?
---
Entry pathways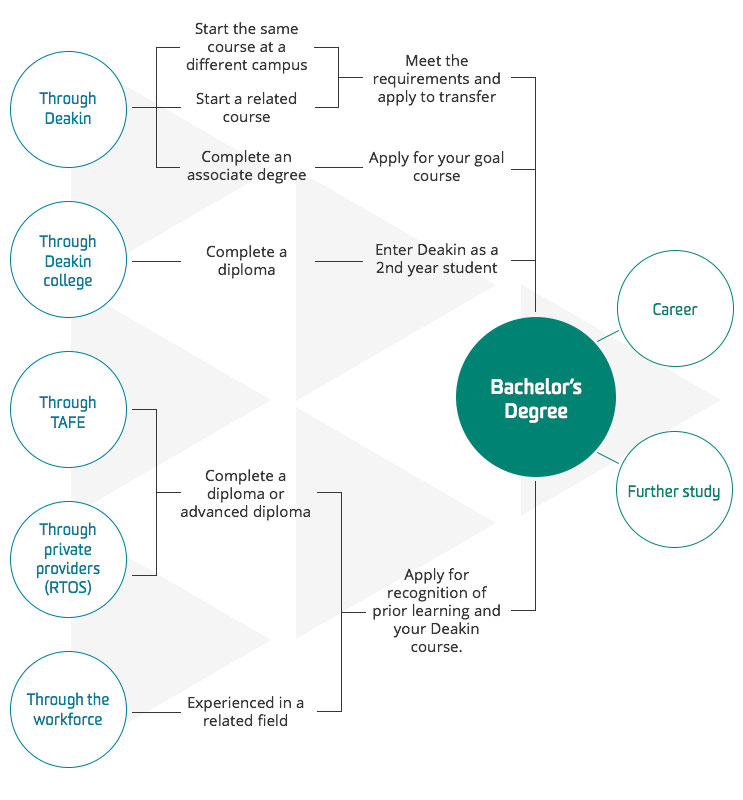 Tap image to expand
Disclaimers:
Through Deakin College and TAFE: Completion of diploma and minimum academic requirements apply to enter Deakin University.
Through Deakin: Transfers within Deakin are subject to availability and meeting minimum academic requirements.
Further study options
Credit for prior learning
If you have completed previous studies which you believe may reduce the number of units you have to complete at Deakin, indicate in the appropriate section on your application that you wish to be considered for credit for prior learning. You will need to provide a certified copy of your previous course details so your credit can be determined. If you are eligible, your offer letter will then contain information about your credit for prior learning.
Your credit for prior learning is formally approved prior to your enrolment at Deakin during the Enrolment and Orientation Program. You must bring original documents relating to your previous study so that this approval can occur.
You can also refer to the Credit for Prior Learning System which outlines the credit that may be granted towards a Deakin University degree.
Still haven't found what you are looking for?