Overview
Deakin offers progressive courses to pursue exciting opportunities in business analytics and data science. As emerging interest areas, both need creative thinking to unlock new and better ways of doing things with data. Our courses will arm you with skills to make sense of the large pools of data held by businesses, the scientific community and governments – helping you to inform strategic decision-making processes, drive innovation and increase productivity.
About business analytics and data science
What is business analytics?
Business analytics focuses on unlocking insights in data to improve operational
efficiency, financial performance and strategic management. Every business organisation wants to gain a competitive advantage by unlocking the hidden insights in their data. This means that graduates with business analytics skills are in high demand across the globe.
What is data science?
Data science is the process of examining and analysing massive amounts and different types of raw data with a scientific-led focus. By doing so, making significant conclusions that inform better organisational strategy choice-making or simply to verify or disprove existing models or theories, with an ultimate aim of driving innovation and increasing productivity.
We embrace advances in technology and encourage our students to get out of their comfort zone, and motivate them to achieve high standards in their studies.
Vicky Mak
Senior Lecturer, School of Information Technology
See what others don't
Learn to find meaning and extract value from data by applying creativity to real-world problems. We'll arm you with data analysis skills and teach you how to apply problem-solving and creative thinking to the needs of business, science and society.
Data – the new frontier
Organisations place increasing emphasis on data to make day-to-day decisions and inform long-term strategy. Data analysts and specialists are in high demand, as businesses and governments need to make sense of the huge pools of available data.
Handling big data
With big data and large volumes of information collected every second by sensors and networks from diverse sources, analytics graduates are taught the right skills to take this data and distil the information into something important and persuasive.
Analytics courses
Study with Deakin and we'll help you transform your passion into a successful and rewarding career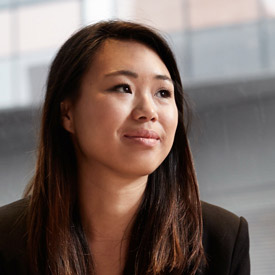 Research with us
Flesh out your own theories and ideas at a high conceptual level. Research in this area can bring real value and practical benefits to your place of employment – not just academia. Research anything from examining big data to business analysis, through to data science and manipulation.
Recent Deakin research
The Centre for Pattern Recognition and Data Analytics (PRaDA) focuses on the discovery of patterns in large-scale data and works within project areas as diverse as surveillance, social media and pervasive health while remaining grounded in real-world problems. Research by the centre drive both the start-up iCetana, an innovative anomaly detection software, as well as TOBY PlayPad, a uniquely adaptive early intervention program for children with autism.
Find out about researching with the School of Information Technology
Industry connections
Industry-informed teaching
Deakin's teaching and research staff are experts in their fields, with broad international links and connections with industry. Our courses are designed to take into account the needs of industry to ensure what we teach you is up to date and reflects what organisations need. You also have the opportunity to learn from professionals in the field through industry guest lecturers, and contribute to research and development projects.
Industry-based learning
Industry placements provide you with an opportunity to immerse yourself in a professional workplace, developing your practical and job-ready skills that employers will regard highly. Developing these professional networks while you study opens up a world of possibilities.
Accreditation
Deakin's Master of Business Analytics is the only business analytics program accredited by the Australian Computer Society (ACS).
Our Bachelor of Computer Science, Bachelor of Information Technology and Master of Information Technology courses are professionally accredited by the Australian Computer Society (ACS), which means your degree is recognised by industry and may lead to better job opportunities when you graduate.
International accreditation
Our Bachelor of Commerce is internationally recognised and EPAS accredited by the European Foundation for Management Development (EFMD). We are the only Australian university with EPAS accreditation for its Bachelor of Commerce.
Our MBA is internationally recognised and EPAS accredited by the European Foundation for Management Development. EPAS is an international quality benchmark for business programs worldwide.
Deakin Business School (DBS) is accredited by the Association to Advance Collegiate Schools of Business (AACSB). Only five per cent of business programs worldwide are AACSB accredited and DBS is one of only three in Victoria.
Also, depending on unit choice, once you're a graduate of the Master of International Finance, you can become a member of:
Finance and Treasury Association (FTA)
Financial Planning Association (FPA)
Financial Services Institute of Australasia (FINSIA).
Career opportunities
Do you have a curious, inventive mind that sees what's 'invisible' when it comes to problem-solving and data? Earn great money while being inspired by a rewarding career in analytics.
As a graduate, your knowledge, skills and competencies in modern data science and statistical analysis will be highly valued by employers seeking greater efficiencies and competitive advantage through data insights.
Typical roles can be found across business and scientific fields, as well as within governments, and include:
analytics programmers
BI specialists
business analytics consultant
business intelligence consultant
business strategists
business systems analyst
computer system analyst
data analyst
data scientist
information analyst
information manager/information officer
management analysts
market analyst
project manager
predictive modeller
systems designer.
What do our students and staff say?
Master of Business Analytics – unlocking hidden potential in big data
A brief overview of the Master of Business Analytics course run by the Deakin Business School.
Still haven't found what you are looking for?