Human resource management
DISCIPLINE
Overview
Human resource management is a skill required by all managers in all industries. If you already supervise staff, or aspire to, this course will enhance your management abilities.
I learnt so much about the corporate world, and studying overseas was single handedly the most amazing, educating and broadening experience of my life.
Taylar Farquhar
BACHELOR OF COMMERCE (MAJORING IN HUMAN RESOURCE MANAGEMENT AND MARKETING)
Study anywhere
If you can't attend on-campus lectures due to geographical reasons or work commitments, our human resource management courses are offered online through Deakin's Cloud Campus.
Human resource management courses
Study with Deakin and we'll help you transform your passion into a successful and rewarding career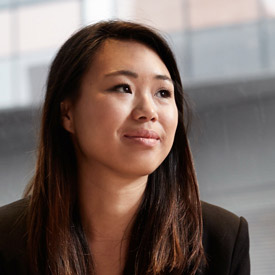 Research with us
If you've got a great insight that you've uncovered and are interested in honing it, take your study to the next level with a higher degree by research. Make a practical and invaluable contribution to your existing workplace or broaden your graduate career possibilities.
Accreditation
Deakin Business School (DBS) is accredited by the Association to Advance Collegiate Schools of Business (AACSB). Only five per cent of business programs worldwide are AACSB accredited and DBS is one of only three in Victoria.
We are the only Australian university with EPAS accreditation (accredited by the European Foundation for Management Development (EFMD)) for our Bachelor of Commerce. We're one of only three universities in Australia with an EPAS accredited MBA.
Deakin University's Master of Human Resource Management is accredited by the Australian Human Resources Institute (AHRI). AHRI is the national peak association that represents human resource and management professionals.
Who we work with
Deakin's human resource management courses are offered by specialist academic staff who engage with industry academics and professionals from a diverse range of organisations, including:
AFL Sports Ready
Armaguard Linfox
CPA Australia
Cricket Australia
Dairy Australia
DST Global Solutions
Fair Work Australia
Public Transport Victoria
SEEK
Telstra
Whitehorse City Council.
Career opportunities
There are vast opportunities for human resource management graduates at both undergraduate and postgraduate levels. You could gain employment in the following roles:
change consultant or manager
industrial relations officer or manager
employment relations officer or manager
HR administrator
HR advisor or consultant
HR analyst
organisational development officer, manager or consultant
payroll or HR compensation officer
recruitment officer
talent acquisition officer
training and development officer or manager.
Browse other disciplines within business
Choose an area that you're interested in and learn how Deakin's extensive range of study options and experiences can help turn your dreams into reality.
Still haven't found what you are looking for?