Overview
Marketing is built on relationships with customers. Modern marketing creatively adds value to the customer experience and builds a relationship between buyers and sellers. Our courses cover a range of subjects, from consumer behaviour and brand management through to online and international marketing. If a blend of psychology and business appeals to you, study a course in marketing with us.
Marketers try to understand why consumers consume the way they do, and at times it's marketers that shape the way they think.
Ninu Joseph
BACHELOR OF COMMERCE (MARKETING MAJOR)
Gain worldly experience
Graduate ahead of the competition with international study experience on your resume, all while earning credit towards your degree.
Marketing courses
Study with Deakin and we'll help you transform your passion into a successful and rewarding career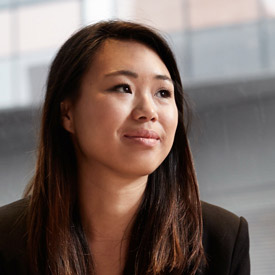 Research with us
If you've got great insight into the way consumers think, feel or buy, flesh it out with a higher degree by research. Specialise in topics from transformative marketing through to marketing analytics and modelling.
Accreditation
Deakin Business School (DBS) is accredited by the Association to Advance Collegiate Schools of Business (AACSB). Only five per cent of business programs worldwide are AACSB accredited and DBS is one of only three in Victoria.
We are the only Australian university with EPAS accreditation (accredited by the European Foundation for Management Development (EFMD)) for our Bachelor of Commerce. We're one of only three universities in Australia with an EPAS accredited MBA.
Deakin's Master of Marketing is accredited by the Australian Marketing Institute (AMI).
Career opportunities
A marketing qualification can open doors to a range of business careers (both locally and overseas). Opportunities include:
big data and mobile marketing
mobile marketing manager
community management executive
research analysts, marketing
marketing assistant
product management
marketing coordinator
social media marketing.
Browse other disciplines within business
Choose an area that you're interested in and learn how Deakin's extensive range of study options and experiences can help turn your dreams into reality.
Still haven't found what you are looking for?