Overview
These courses are designed for qualified Languages teachers who would like to further their understanding of contemporary Languages education. They are also suitable for qualified teachers from other disciplines who wish to add a Languages specialisation to their professional qualifications.
Our courses closely connect theory and current research with practice, and foster the development of strong principles for the teaching and learning of languages. They aim to develop a comprehensive understanding of the context of languages education with a view to critically evaluating and reflecting on the history of the discipline, contemporary policy contexts, and the implementation of current approaches to pedagogy provision, in particular integrated approaches such as Content and Language Integrated Learning (CLIL). Students explore languages acquisition theory and its implications for languages teaching, a wide range of languages teaching methodologies, and strategies for effective assessment and evaluation.
Please note: our courses do not provide an initial teaching qualification for primary or secondary teaching in Australia. Students who seek such an initial teaching qualification should consider the Master of Teaching or Master of Applied Learning and Teaching.
Learn from the best
Deakin's Languages Education team has a breadth of expertise in language teaching and learning, including experience in a wide range of cultural contexts. They are all active researchers in the field, and have a strong commitment to Languages education in intercultural contexts, both nationally and internationally.
Partnerships
We have developed strong partnerships with education communities, governments and industry partners, including the Department of Education and Training (DET), Community Languages Australia, the Modern Language Teachers' Association of Victoria (MLTAV), and Teaching Academies and Alliances. We have well-established links with universities and research institutions in Australia and overseas, particularly in Europe, the Asia-Pacific region and Latin America.
The Centre for Teaching and Learning Languages (CTaLL) is a research group within the TESOL/Languages team which both develops these connections and serves as a forum for our postgraduate research students and their work.
Teaching languages courses
Study with Deakin and we'll help you transform your passion into a successful and rewarding career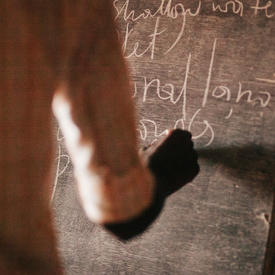 Research with us
If you have unique insights, skills and experiences to bring to Languages Education, take on a higher degree by research with us.
Career opportunities
Our courses are endorsed by the Victorian Institute of Teaching (VIT) for specialist teaching. They provide innovative insights into the theory, research and practice of contemporary Languages Education in global contexts, for both experienced Languages educators and teachers who are new to the Languages discipline.
As this is a specialist qualification, you will need a recognised initial teaching qualification first if you wish to teach in Australia.
Browse other disciplines within education and teaching
Choose an area that you're interested in and learn how Deakin's extensive range of study options and experiences can help turn your dreams into reality.
Still haven't found what you are looking for?