Overview
Multimedia is one of the fastest developing areas in computing. By studying interactive media design at Deakin you'll get to combine technical IT and creative skills, learning how to design and author multimedia information. When you graduate you could find yourself designing interactive multimedia services, creating websites or working in business, entertainment or marketing.
Deakin students are really privileged to have closer relationships with their lecturers and tutors while studying. Take advantage of this.
Bachelor of Information Technology (Multimedia)/Masters of Information Technology (IT Services and IT Security)
Industry experience in every IT course
All IT students can undertake an internship, allowing you to apply your learning and gain industry experience that counts towards your degree. You'll also experience the work environment and develop professional networks before you graduate.
Creative technologies courses
Study with Deakin and we'll help you transform your passion into a successful and rewarding career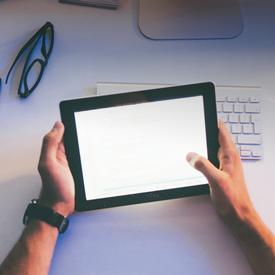 Research with us
The School of Information Technology aims to benefit society by generating new fundamental knowledge, training tomorrow's technology leaders and advancing industry technologies to maintain a competitive edge. Our research develops your skills and, with our expert staff supervising you, you'll be on the right path to a successful career.
Industry connections
We recognise the importance of being closely aligned with the IT industry. That's why we maintain strong industry links through IT representatives from organisations such as Telstra, ANZ and Computershare. These industry representatives provide us with curriculum advice, keeping our courses current and relevant to industry needs, which is key in a sector where change is constant.
Accreditation
Our courses are professionally accredited by the Australian Computer Society (ACS), so your degree will be recognised by industry, which in turn will help you stand out to future employers.
Career opportunities
As an IT graduate with a specialisation in interactive media design, you'll demonstrate all sorts of skills, from creative thinking and problem-solving strategies to technical skills and investigation techniques. Related occupations include:
component integrator
database manager
object-oriented and procedural programmer
network manager
project manager
web designer
web manager.
Browse other disciplines within information technology
Choose an area that you're interested in and learn how Deakin's extensive range of study options and experiences can help turn your dreams into reality.
Still haven't found what you are looking for?