Overview
IT services and management has a focus on interdisciplinary approaches to services management. It provides up-to-date knowledge and expertise of recent computing and technological developments through IT consulting skills. With the globalisation of IT services and the growth in the IT industries around the world, development of these skills and knowledge puts you at the forefront of a successful career in a services-led economy.
We have specialist computer labs to support their studies from undergraduate through to master's coursework and research studies.
Associate Professor, school of information technology
Industry-relevant courses
We know the importance of being closely aligned with industry, so we maintain links through representatives from organisations such as IBM, Telstra and ANZ. They provide curriculum advice and ensure our courses are current and relevant.
IT services and management courses
Study with Deakin and we'll help you transform your passion into a successful and rewarding career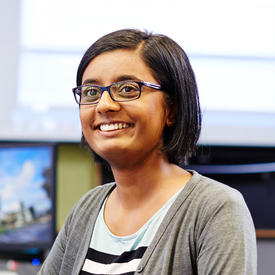 Research with us
The School of Information Technology aims to benefit society by generating new fundamental knowledge, training tomorrow's technology leaders and advancing industry technologies to maintain a competitive edge. Our research develops your skills and, with our expert staff supervising you, you'll be on the right path to a successful career.
Industry connections
Industry experience in every IT degree
Our IT services and management specialisation is designed in partnership with IBM. This direct involvement from industry informs teaching by providing recent developments in IT consulting and computing technologies.
Accreditation
Our Master of Information Technology and Master of Information Technology (Professional) are accredited by the Australian Computer Society (ACS), which means your degree is recognised by industry, resulting in stronger job outcomes.
Deakin's IT courses give you the option to study units that lead to Cisco certification, giving you a relevant, practical qualification, as well as an advantage over other graduates when applying for jobs.
Career opportunities
As a Master of Information Technology graduate, you may find employment in a wide range of industries, both private and government, in roles including:
business analyst
database administrator
network administrator
security analyst
security systems manager
software developer
solutions architect
technology consultant.
What do our students and staff say?
IT @ Deakin
Wonder what it's like to study IT at Deakin? Hear firsthand from current students about what inspired them to study IT and what they love about studying at Deakin. Be at the forefront of technology and prepare yourself for employment opportunities in just about every industry with a Deakin IT degree.
Browse other disciplines within information technology
Choose an area that you're interested in and learn how Deakin's extensive range of study options and experiences can help turn your dreams into reality.
Still haven't found what you are looking for?