Career opportunities
Graduates of our courses can demonstrate a range of skills including problem-solving strategies, high-level analytical skills and investigation techniques. This can lead to employment in a wide range of industries, both private and government, in roles including:
IT strategy consultant
IT strategy manager
digital transformation consultant
technology evangelist
service delivery consultant
IT services and portfolio consultant
chief information officer
chief technology officer
IT advisory manager
chief digital officer
IT risk manager
digital innovation manager.
Undergraduate
Undergraduate (your first degree)
An undergraduate degree is generally completed between two to four years, depending on the pattern of study and any credit for prior learning you may have. Associate degrees, bachelor's and bachelor's with honours are all undergraduate degrees.
Postgraduate
Postgraduate (further study)
A postgraduate qualification can be undertaken by students who have already completed an undergraduate degree or possess significant, demonstrable work experience. Postgraduate courses include graduate certificates, graduate diplomas, master's and PhDs, as well as specialist programs for industry professionals.
Research
Higher Degrees by Research (supervised research)
Research degrees are research based master's or PhD programs that focus on a single area of expertise. They provide students the opportunity to carry out highly specialised research under expert supervision.
We have specialist computer labs to support their studies from undergraduate through to master's coursework and research studies.
Associate Professor, school of information technology
Develop cross-disciplinary expertise
Studying this field offers you the opportunity to learn from experts from the School of Information Technology and Deakin Business School – a distinctive learning experience equipping you with the skills needed to drive strategic technology initiatives at the intersection of technology, business and management.
Immersive learning experiences
Close industry links allow us to bring into the classroom both industry experts and projects that serve to create an immersive learning experience. Work on real-world IT services and strategy problems and develop critical thinking, leadership and business skills that'll position you strongly for a successful IT professional career.
Industry experience in every IT course
All IT students can undertake a real-world internship as part of their course. You'll be able to apply your learning and gain valuable industry experience that counts towards your degree. You'll also experience the work environment and develop professional networks before you graduate.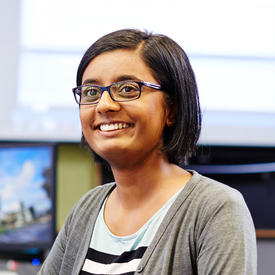 Research with us
The School of Information Technology aims to benefit society by generating new fundamental knowledge, training tomorrow's technology leaders and advancing industry technologies to maintain a competitive edge. Our research develops your skills and, with our expert staff supervising you, you'll be on the right path to a successful career.
Industry connections
Close industry partnerships
We recognise the importance of maintaining strong industry links and being closely aligned with the IT industry. IT representatives from leading corporate industries and the government sector guide our curriculum and teaching programs, keeping our courses current and relevant to industry needs, which is key in a sector where change is constant.
Deakin also hosts guest speakers from key industry partners on a regular basis, keeping you up to date with industry trends as well as providing important networking opportunities.
Accreditation
Most of our IT courses are accredited by the Australian Computer Society (ACS), ensuring a high quality of education and providing you with international recognition as an ICT industry professional so you stand out to future employers.
IT @ Deakin
Wonder what it's like to study IT at Deakin? Hear firsthand from current students about what inspired them to study IT and what they love about studying at Deakin. Be at the forefront of technology and prepare yourself for employment opportunities in just about every industry with a Deakin IT degree.
Browse other disciplines within information technology
Choose an area that you're interested in and learn how Deakin's extensive range of study options and experiences can help turn your dreams into reality.
Still haven't found what you are looking for?