Overview
Virtual reality and augmented reality are expected to be the next big computing environments. Virtual and augmented reality are already being integrated into a number of industries such as health care, tourism, advertising, gaming, entertainment, automotive, education and space. The varying scope of industries showcases how crucial it is that we train graduates in this area and put them at the forefront of this incredibly exciting and innovative field.
About VR and AR
What is Virtual Reality?
Virtual reality (VR) is an immersive digital environment that can replicate lifelike physical environments or portray a fictional artificial world. It makes the user feel like they're immersed in that environment in real life.
These environments can be viewed through a head-mounted display (e.g. Oculus Rift and HTC Vice), a smartphone-based display (e.g. Google Cardboard) or by standing within a cube or dome showing 3D projections on every surface.
VR allows users to interact with these environments and can also create additional sensory experiences including virtual touch through haptic technology, sight, smell, taste and sound.
VR example
A simulated VR environment is used to train surgeons and allow them to safely practise the precise task they have to undertake. The VR experience recreates all aspects of the surgical environment and allows them to replicate the authentic experience without the risks they face when in an operating room.
What is Augmented Reality?
Augmented reality (AR) is created by enhancing real-life objects and environments with a digital overlay. There are many existing AR apps that overlay visual cues into a camera interface.
An AR navigation app on a smartphone would show the user symbols of cafes and amenities around them overlaid on top of the image taken through the phone's camera to assist them in navigating a city.
AR content is overlaid on a view of an existing physical environments while VR completely immerses the user in an environment that is entirely computer synthesised.
AR example
A user could have a specialised 2D board game that interacts with an augmented reality app on a smartphone. The user might hover the smartphone over the 2D board game and the game objects would become 3D or interactive when viewed through the phone. Visual clues are built into the board game that the app is able to recognise and activate.
Whether it be developing virtual prototypes for buildings or aircraft, virtual training scenarios or new games, VR is likely to transform the way we live.
Director of Deakin's CADET VR Lab
Our partnership with EON Reality
EON Reality is the world leader in virtual and augmented reality knowledge transfer, specialising in education, industry and edutainment. It's a multinational software developer that's partnered with Deakin to bring its expertise to Australia.
Why Deakin?
Deakin is proud to be the first university in the Australian and New Zealand region to offer a dedicated course in virtual reality and augmented reality – the Graduate Diploma of Virtual and Augmented Reality.
Students also have the opportunity to study VR/AR as part of the Bachelor of Information Technology, Master of Information Technology and Master of Information Technology (Professional).
Interactive Digital Centre (IDC) Hub
The IDC Hub houses EON Reality's state-of-the-art VR and AR equipment, along with their entrepreneur school where students will learn the skills needed to be successful when creating AR and VR content for industry and education. The IDC Hub offers students the ability to undertake a placement with EON Reality and their industry clients. Within the Graduate Diploma of Virtual and Augmented Reality, students have ability to undertake a four credit point placement with EON Reality and their industry clients in the IDC Hub.
Virtual reality courses
Study with Deakin and we'll help you transform your passion into a successful and rewarding career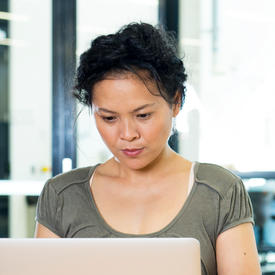 Research with us
Deakin researchers created an augmented reality game called 'Pirate Adventure', which was designed for primary school-aged children to engage in physical activity and fundamental movement skills. It was launched on an android phone and the students had to solve clues and complete various physical activities to progress within the game.
Recent Deakin research
VR midwifery
Midwifery students are now learning with a virtual reality simulator developed by researchers at Deakin. The simulator enables students in training to experience tactile aspects of labour virtually – without the need for an actual pregnant woman.
Accreditation
Our Bachelor of Information Technology and Master of Information Technology are professionally accredited by the Australian Computer Society (ACS), so your degree will be recognised by industry, which in turn will help you stand out to future employers.
Career opportunities
VR and AR skills are in high demand across a range of industries. Graduates may find employment as:
VR game designers
oculus developers
games producers
VR/AR programmers
augmented reality app designers
virtual reality programmers
frontend developers
3D designers
software engineers
FX technical artists
gameplay engineers
software program managers.
What do our students and staff say?
Virtual Reality Lab – Deakin University
The VR CAVE (CAVE Automated Virtual Environment) is a very unique virtual reality facility. It is located at Deakin's Geelong Waurn Ponds Campus within the Centre for Advanced Design in Engineering Training (CADET).
Browse other disciplines within information technology
Choose an area that you're interested in and learn how Deakin's extensive range of study options and experiences can help turn your dreams into reality.
Still haven't found what you are looking for?