Overview
Our dance courses provide much more than simply contemporary dance training. You'll have access to guest practitioners, learn the skills to choreograph your own work and develop as a collaborative artist. Deakin is the only university in Australia where collaborative work in dance and digital technologies is a core component of the course.
The Dance course at Deakin is unique. Graduates of Dance at Deakin are able, creative thinkers and are equipped to pursue their interests in dance.
Lecturer in creative practice (Dance)
Learn from the best
Our academic staff are locally and internationally respected dancers and dance-makers, having worked with some of the most esteemed companies and choreographers worldwide.
Dance courses
Study with Deakin and we'll help you transform your passion into a successful and rewarding career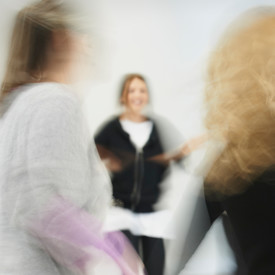 Research with us
Change the world through dance and take your ideas further with a higher degree by research. You'll be in good company with us.
Recent Deakin research
WORK: hybridity and endurance within solo dance practice and performance
Steph Hutchison developed a new approach to movement practice and performance through a solo performance that used physical paradigms of endurance and work to integrate the normally divergent movement practices of contemporary dance, circus and improvisation.
Work experience opportunities
Work experience plays a critical role in developing your employability – students that undertake placements and internships are highly sought-after by employers.
Communication and creative arts students have many work experience and networking opportunities prior to graduation.
Our community
Find out what's going on in the creative arts at Deakin, including dance.
Career opportunities
Dance course graduates have the skills for working with contemporary dance companies internationally and around Australia. You'll also be able to initiate independent projects, particularly working across disciplines. Dance teachers in the school system and in private studios are also in strong demand. Areas of work include:
Arts administration
Community arts
Independent dance-makers and practitioners
Marketing
Physical therapy
Production
Dance teacher
Video and film
What do our students and staff say?
Dance at Deakin
Dance students and staff talk about the culture and study of dance at Deakin University and the many career opportunities available to our graduates.
Browse other disciplines within media, communication and creative arts
Choose an area that you're interested in and learn how Deakin's extensive range of study options and experiences can help turn your dreams into reality.
Still haven't found what you are looking for?