Overview
Learn the skills to create every aspect of a variety of genres, from documentary to short film. You'll study scriptwriting and editing through to sound design and cinematography. Being a multi-disciplinary creative form, you can tailor your skills and branch out into other areas, including photography, animation, motion capture and drama.
At uni I've had the opportunity to gain a true understanding of what it's like to work in the creative arts industry.
bachelor of Creative Arts (film and television)
State-of-the-art facilities
Get inspired in the Deakin television broadcast studio, a high-definition television studio used by commercial broadcasters. You can also learn advanced cinema workflows with our Red Epic 5k cameras, the same ones Peter Jackson used to film The Hobbit.
Film and television courses
Study with Deakin and we'll help you transform your passion into a successful and rewarding career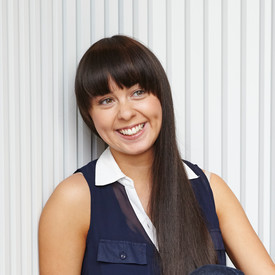 Research with us
Got an interesting take on new or traditional media in film and television? Take your big idea further with a higher degree by research.
Recent Deakin research
Visual networking: keeping television on the box
Toija Cinque and David Marshall examined the future of television arguing that faster broadband and internet-enabled televisions to watch movies and shows when it suits the audience are the keys to television's survival.
Work experience opportunities
Work experience plays a critical role in developing your employability; students who undertake placements and internships are highly sought-after by employers. Students of film and television have many work experience and networking opportunities prior to graduation.
The Marngrook Internship is offered annually, giving a number of Deakin students the opportunity to work on a full season of the Marngrook Footy Show. This grants hands-on experience in a long-running and well-regarded television show.
Career opportunities
Deakin film and television graduates find employment in fictional and factual production for cinema and television. Many are also involved in the corporate, educational and advertising sectors.
You may establish your own business in these fields, or become a freelance producer, director or script writer. You might decide to become a highly skilled crew member in the camera, lighting, sound, design and effects or editing departments.
You may also find work with broadcast TV stations and post-production houses, or in distribution, exhibition, archiving, research, screen education and cultural entrepreneurship.
Careers include:
Acting
Cinematography
Directing
Editing
Production
Post-production
Script writing
Sound design
What do our students and staff say?
Film and television at Deakin
Lecturer Liz Bauch talks about the film and television course.
Student film showcase
'Movement' by Emma Sullivan is a short meditation on movement and stillness in our daily lives.
Browse other disciplines within media, communication and creative arts
Choose an area that you're interested in and learn how Deakin's extensive range of study options and experiences can help turn your dreams into reality.
Still haven't found what you are looking for?