Overview
You'll become the eyes that assist medical diagnosis and guide clinical decision making by producing high-quality images of the human body. Our new and highly specialised course in this field will allow you to practice as a registered diagnostic radiographer anywhere in Australia or the world.
Through Deakin you get the opportunity to practice learned skills in supervised clinical placements in medical imaging departments across Australia.
Senior Lecturer In Diagnostic Imaging (Clinical Studies And Clinical Practice)
Graduate work-ready
During your studies, you'll learn both in and outside of the classroom (clinical centres, imaging clinics and hospitals), providing you with the ability to enhance your resume with both study and invaluable work experience.
Medical imaging courses
Study with Deakin and we'll help you transform your passion into a successful and rewarding career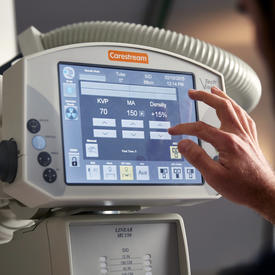 Research with us
Taking on a higher degree by research with us will see you collaborate with research partners nationally and internationally and use rapidly evolving medical imaging technology. You'll have access to insightful, expert supervisors, like Professor Paul Yielder who has an impressive international reputation.
Accreditations
This course has been approved by the Medical Radiation Practice Board of Australia (MRPBA).

It has also received conditional accreditation from Australian Health Practitioner Regulation Agency (AHPRA) as a new course.
Career opportunities
You can work in countries all over the world with medical imaging qualifications. You'll work in a radiology department in a hospital, private radiology practice or health department as a skilled practitioner who can work in the fields of:
Computed tomography (CT)
Digital vascular imaging
General radiography
General ultrasound (U/S)
Magnetic resonance imaging (MRI)
To broaden your career opportunities, a range of elective studies will be offered in year four of the course, including:
Advanced imaging
Inter-professional education
What do our students and staff say?
Dominic Collins: Bachelor of Medical Imaging
Deakin University offers a unique new four-year Bachelor of Medical Imaging at its Geelong Waurn Ponds Campus. Hear what student Dominic Collins has to say.
Browse other disciplines within medicine
Choose an area that you're interested in and learn how Deakin's extensive range of study options and experiences can help turn your dreams into reality.
Still haven't found what you are looking for?