Research and tertiary education careers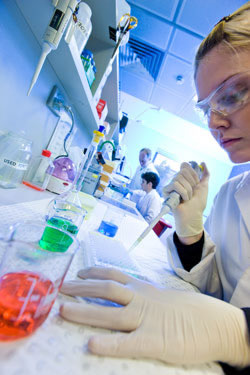 The quest for new knowledge in the sport and exercise sciences and the communication of this knowledge to train and educate athletes, coaches, and fellow practitioners drives the academic staff within the School of Exercise and Nutrition Sciences. Immersed in this environment throughout their degree, exercise and sport science graduates can also play important roles in the research and tertiary education sectors.
Following an honours degree (or sometimes in parallel with honours studies), exercise and sport science graduates gain employment working as research assistants, collecting and analysing data in exercise, sport, and health settings to assist more senior colleagues (i.e. lecturers, senior scientists, professors, etc) to make recommendations for improved health, fitness, sporting and work performance.
Universities and other tertiary and vocational education providers (eg, TAFE's) realise the benefits of employing recent graduates to communicate exercise and sport science knowledge to their students. Recent graduates are highly engaged with course materials and can be more accessible and empathetic to students learning the material for the first time. Within the School of Exercise and Nutrition Sciences, Exercise and Sport Science graduates routinely work as sessional staff, demonstrating laboratory and practical classes and with further training (often through honours, masters, or doctoral studies) lead tutorial classes and deliver lecture material.
Job titles/roles:
Demonstrator, University Tutor, Research Assistant, Associate Lecturer, Lecturer, Senior Lecturer, Associate Professor, Professor, Exercise Physiologist, Exercise Scientist, Sport Scientist, Coach, Medical Researcher.
Employers:
Universities, academy or institute of sport, professional sporting teams, National Heart Foundation, National Health and Medical Research Council, medical research institutes (i.e. St. Vincent's Institute, Baker IDI,Garvan Institute).
Professional associations:
Many of the sport occupations have professional associations that support the ongoing development of careers tertiary-based researchers and educators. Find out more about these professional associations.
Suggested major sequences:If you are interested in a career in research and tertiary education you can choose from any of our suggested major sequences depending on your interests/careerr path.
The School of Exercise and Nutrition Sciences provides a range of research degree programs at Masters and Doctorate level to suit a variety of career plans.
Look into the research training opportunities in our research priority areas:
Centre for Physical Activity and Nutrition Research
Dietetics Research Unit
Molecular Medicine and Nutrition Research Unit
Find a comprehensive list of supervisors and their research interests:
You can explore research at Deakin via the Deakin Research website.
Graduate profiles:
Jenni Raines (PDF, 56.3 KB) Undertaking a PhD in Physiology.
Jace Drain (PDF, 14.5 KB) PhD in Physiology.
Expert in area:Professor Rod Snow is Professor of Exercise Physiology and Deputy Head of the School of Exercise and Nutrition Sciences at Deakin University. He leads the Skeletal Muscle and Tendon Health research group with the Centre for Physical Activity and Nutrition Research (C-PAN) and leads the Exercise and Sport Science discipline within the school. Read more on Professor Snow's interview on careers in the area of research and tertiary education (PDF, 14.4 KB) .
Page custodian: Faculty of Health Last updated: