Introduction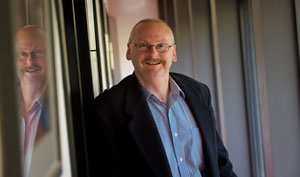 It is my pleasure to welcome you to the School of Exercise and Nutrition Sciences. The School's work is so important as poor nutrition and inadequate physical activity are known to increase the risk of many serious health conditions like heart disease, diabetes, high blood pressure, obesity, osteoporosis, cancer and depression. Given this, and the fact that Australia has an ageing population, the development of strategies to improve nutrition and promote physical activity across the lifespan are important health priorities. However, as well as being important for health, our teaching and research is also important to the food industry and the sports industry, both of who are major contributors to the Australian economy.
Our teaching programs prepare students for careers where they can promote physical activity and optimal nutrition. The School offers a wide variety of courses in exercise and sports science, food and nutrition sciences at undergraduate level, and human nutrition, dietetics and clinical exercise physiology at postgraduate level. These courses aim to prepare students for careers where they can promote physical activity and optimal nutrition. Full details of our undergraduate and postgraduate courses can be viewed at this link.
Our research aims to provide the evidence base to promote health and improve sports performance, drawing on our expertise in basic science, clinical science and population health. We conduct applied research into the roles of exercise and nutrition in disease prevention and human performance; and we have a strong focus on translating our research into policy and practice by working with government, the community and industry partners to promote health and wellbeing.
The School hosts the Centre for Physical Activity and Nutrition Research which brings together expertise from a range of disciplines including: food science, nutrition and dietetics, exercise science, behavioural science, public health and health promotion. Much of the School's research is conducted in collaboration with partners, which include many of the major national non-government health organisations. We also have international collaborations with groups across North America, Scandinavia, Europe and Asia, and regularly host visiting researchers from other leading institutions nationally and internationally.
The School provides a vibrant environment to learn about nutrition and exercise and conducts leading edge research. I welcome you to the School.
Alfred Deakin Professor David Crawford
Head, School of Exercise and Nutrition Sciences
Page custodian: Faculty of Health Last updated: