Deakin MBA takes on the world
It's all very well sitting in a classroom learning about international business management – but Deakin MBA students head out into the business world to see if for themselves.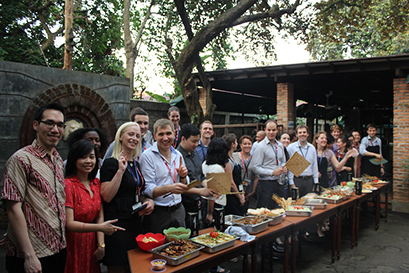 As part of its Trimester 3 program, the Deakin Graduate School of Business offered students the opportunity to complete International Business Management in Indonesia, to develop a deeper understanding of doing business with Indonesian companies.
This program led by Dr Jane Menzies and Dr Steve Ogden-Barnes, was a tripartite program involving students from Deakin University, Prasetiya Mulya Business School in Jakarta, and the William and Mary Mason School of Business from Virginia, United States of America.
The program involved students completing studies in International Business Management via Cloud in Trimester 3 2013.
Students had the experience of working globally over the internet with their counterparts in Indonesia and the USA, and they worked on a joint case study on an Indonesian company called Astra Asuransi.
Students then travelled to Indonesia in late February, where the immersion program began.
The program was launched with presentations made by Austrade, Australia Indonesia Business Council (AIBC) and ANZ Banking Corporation, Indonesia.
Classes were then held at Prasetiya Mulya Business School in Cilandak, South Jakarta.
For Australian students, the immersion program was not only an opportunity to find out about Indonesian culture, but also to develop relationships with cohorts from Indonesia and the USA.
We hope that students can use these relationships in the future, to assist with global business.
The classes at Prasetiya Mulya focused on sharing knowledge in regard to Indonesian, Australian and American business culture.
Students also had presentations from Indonesian professionals on social media in Indonesia, and social responsibility.
Company visits were also arranged and included visits to a traditional coffee making facility and an environmentally-friendly business called Goodwater.
Students also worked on their case presentations, and presented their case solution to Astra Asuransi.
The immersion program also allowed students to participate in various cultural activities including visits to significant sites.

Students rated the program 4.85 out of 5 for overall satisfaction.
They specified that they gained a range of benefits from the program, and the following are some of the students' comments.
'Cultural understanding.'
'Experiencing the real Indonesia!'
'Getting to see many things tourists would not get to see, eg Austrade, CEO of ANZ Bank.'
'Strong contacts and hopefully lifelong friendships.'
'The program made the course material come alive.'
'I have learnt to be more tolerant when working in-group situations.'
'Being surrounded by successful and inspirational people has given me the drive to succeed in my future studies & career.'
'Renewed sense of community – work, university life and social.'
'Ability to pursue business interests in Indonesia in the future if I desired it.'
'Learning about other university MBA programs and students.'

The Faculty of Business and Law was successful in applying for the Asia Bound Grants program, from the Australian Government Department of Industry, Innovation, Climate Change, Science, Research and Tertiary Education (DIICCSRTE) to the value of $2000, per student, for 10 students which covered the majority of the costs associated with the program.

Immersion Program 2015
The immersion program will be held at Deakin University in Australia from 1-7 March 2015 where partners Prasetiya Mulya Business School from Indonesia, Chulalongkorn University from Thailand and the William and Mary School of Business from the United States have been invited to attend. The program is open to 10 students.

If you are interested in being involved in the program for 2015 please email Dr Jane Menzies for further details. Please note that participants must be enrolled in International Business Management in Trimester 3 2014.

Watch our Immersion Diary video.

Watch our Inspiration Immersion video.

Dr Jane Menzies

Page custodian: Faculty of Business & Law Last updated: