20 Questions @ The Wheeler Centre
We're constantly bombarded by reports of our political differences – but how else do we differ? Dr Carl Driesener worked with Melbourne's Wheeler Centre to find out.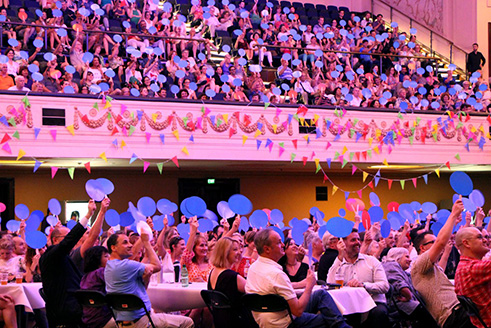 Happy ending or sad ending? Fiction or non-fiction? This or that? What are the issues that divide us? How do we differ in the community?
The Wheeler Centre's Twenty Questions was about engaging the citizens of Melbourne and pointing to the failures of democracy.
It takes the form of a mock election where no one is elected, followed by a results party, where all the citizens of Victoria are invited.
Instead of voting in members of parliament, this event is a mass public opinion poll.
As a candidateless election, this is truly the only issues-based election anywhere.
It's what we've all been asking for.
This is the only chance the people of Melbourne will have to vote on the things that really matter, and their voices will be heard.
This is the definitive opinion poll – the results are binding and the stakes are high.
Over a week in February, and over 4500 respondents later, the Melbourne Town Hall was turned in to 'election night live' and panellists Ray Martin, Sophie Black and Bernard Salt discussed the outcomes of the 'election', providing an evening of provocative entertainment.

The DGSB's Dr Carl Driesener developed the systems that underpinned the analysis, and conducted the analysis on the night.
Carl's background in market research, data analytics and consumer behaviour allowed him to analyse the results from 4692 respondents for the 20 questions through the inclusion of seven demographic variables.
Carl provided an initial comprehensive analysis of all variables, before selecting those demographic splits which showed significant variation and would generate interesting discussion.
His work was provided to the five panelists as the focal point of discussion.
This is a little different from his recent consulting work which has focused on understanding how brands share customers and behavioural segmentation.

Dr Carl Driesener

Page custodian: Faculty of Business & Law Last updated: