Is your boss a bully? What can you do about it?
Fair Work Commissioner John Lewin recently outlined changes to the Fair Work Act to Deakin MBA Alumni – what do these mean for you as an employer? And an employee?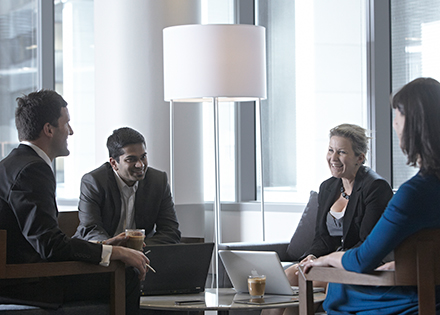 The first MBA Alumni professional development seminar for 2014 was held at Deakin University's Melbourne City Centre on Friday 30 May.
Around 30 MBA alumni, spanning more than 20 years of graduates, came to hear Commissioner John Lewin of the Fair Work Commission (FWC) give a presentation on 'Workplace Bullying and the Anti-Bullying Provisions of the Fair Work Act 2009'.
The Fair Work Act 2009 was amended in 2013 to provide for alleged bullying cases to be heard before the FWC.
Whilst the application of the legislation is still in its early days, attendees were keen to hear how this new jurisdiction was operating.
Bullying is defined in the Fair Work Act as 'repeated unreasonable behaviour directed towards a worker or group of workers that creates a risk to health and safety' (s.789FD(1)).
When the FWC is satisfied that bullying has occurred, an order will be made which might, for example, involve ordering an individual or group to stop the bullying behaviour; to comply with a workplace bullying policy; review that policy; or provide further information and training to workers.
Penalties can be applied to natural persons and body corporates for non-compliance with such orders.
In a thought-provoking and wide-reaching presentation, Commissioner Lewin highlighted the substantial costs associated with workplace bullying (Safe Work Australia estimates the average workers' compensation claim related to bullying was $41,700 in 2008; research estimates the costs to organisations can range from US$30-$100,000); international research findings about types of bullying behaviours; and the nature of applications made to the FWC since 1 January 2014 when the jurisdiction commenced.
He explained how 'reasonable management actions carried out in a reasonable manner' are specifically excluded by the Act (s.789FD(2)).
Examples here include reasonable action in relation to performance management, disciplinary action and/or reasonable management action more broadly.
In deciding whether a management action is reasonable, the FWC will take into account the circumstances that created the need for the action; the circumstances at the workplace at the time of the action; the consequences of that action; and the emotional state and psychological health of the worker allegedly bullied.
Questions from the audience throughout Commissioner Lewin's presentation contributed to a lively and engaging discussion.
The post presentation refreshments offered a chance for alumni to catch up with former colleagues, extend their network to new alumni, and update MBA staff on their careers.
A highly recommended text on bullying, available in ebook format through the Deakin Library, is Einarson, S., Hoel, H., Zapf, D & Cooper, C.L. (2011) Bullying and Harassment in the Workplace: Developments in Theory, Research and Practice, CRC Press, USA.

The professional development series provides an opportunity to catch up with friends whilst also maintaining up-to-date knowledge in critical areas of management.
Our next newsletter will contain details of the second of these presentations in 2014.

Dr Elsa Underhill

Page custodian: Faculty of Business & Law Last updated: