Biostatistics Unit
The Deakin Biostatistics Unit (DBSU) provides high-quality biostatistical consulting and collaborative support to Deakin University's health research programs. We contribute to health science by developing, applying and promoting appropriate biostatistical methods.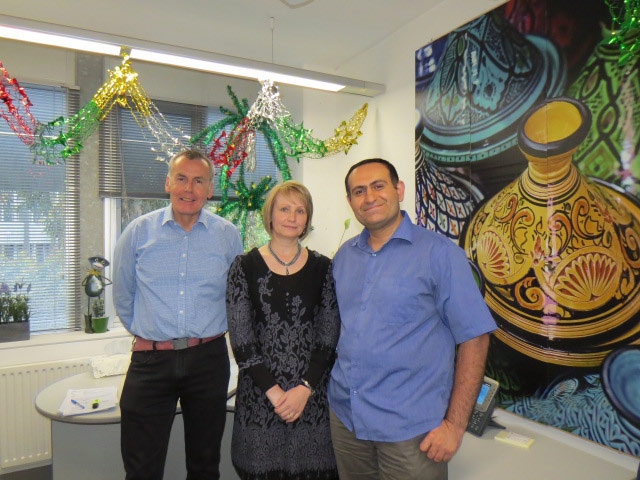 Aims of the DBSU
Improve the quality, efficiency and impact of Faculty of Health research through the provision of biostatistical advice, consultancy and collaboration at all stages of the research process. We will assist with concept development, grant application, study design, protocol development, planning, data collection, analysis and reporting.
Co-supervise higher degree by research (HDR) students in the Faculty of Health.
Provide a focal point for biostatistics and nurture a network of quantitative researchers in the Faculty of Health.
Conduct research on biostatistical methods that are required for faculty research projects.
Foster mutually beneficial relationships between the faculty and external stakeholders such as clinicians, health services, policymakers and the community.
While the unit was formed primarily to support Deakin University Faculty of Health Research Programs, the unit also undertakes consulting and collaborative work with external partners, provided the work is aligned with the faculty's overall mission.
Services provided by the DBSU
Members of the Deakin Biostatistics Unit (DBSU) offer biostatistical advice to Faculty of Health staff and HDR students via scheduled appointments. The DBSU biostatisticians can provide assistance with:
Study design - we assist with the setting up of a research project by collaborating on the formulation of aims and testable hypotheses, selection of endpoints (measurables), creation of experimental plans, including randomizations, design of sampling schemes, power and sample size calculations, and protocol writing.
Grant preparation - we take responsibility for the statistical methods section of research proposals, including power and sample size calculations and, if required, a formal statistical analysis plan (SAP). We ensure that the study design has alignment of the objectives, endpoints and statistical methods.
Statistical data analysis - we can advise on, or take full responsibility for, this important activity.
Presentation of results and manuscript preparation - the DBSU can assist you with the preparation of results for presentation to your research community. This presentation could be a doctoral dissertation, a conference, or a manuscript and we can

Assist with the write-up of statistical methods and results
Review a draft of a manuscript before submission
Respond to comments from reviewers of the manuscript.

Biostatistical appraisal of protocols and manuscripts authored by others.
Research into new or specialized biostatistical methods required for specific faculty projects and programs.
The DBSU biostatisticians have experience with a range of statistical packages including SAS, STATA, SPSS, GenStat, Minitab, M-plus, WinBugs and R. We will, in conjunction with other project team members, decide on the most appropriate package and statistical method for a specific task or project.
From time to time the DBSU offers enrichment courses on biostatistical topics and specific procedures available in statistical packages, to researchers in the Faculty of Health. Requests for particular courses should, in the first instance, be addressed to the Head, DBSU.
Who to contact in the Biostatistics Unit
The DBSU has a core complement of three experienced biostatisticians:
Dr John Reynolds (Head, DBSU)
Dr Lucy Busija
Dr Mohammadreza Mohebbi
Are you a staff member or HDR student at Deakin?
Your first point of contact will vary according to the school or research centre where you work.
---
If you are in the School of Psychology or any of its associated SRCs, please contact:
Lucy Busija
l.busija@deakin.edu.au
925 46745
---
If you are in the School of Nursing and Midwifery, Centre for Quality and Patient Safety, IMPACT, or the School of Health and Social Development, please contact:
Mohammadreza Mohebbi
m.mohebbi@deakin.edu.au
924 68993
---
If you are in the School of Exercise and Nutrition Sciences or any of its associated SRCs, please contact:
John Reynolds
john.reynolds@deakin.edu.au
925 17096
---
If you are in any other school or SRC in the faculty, please contact John Reynolds directly and he will allocate a biostatistician to your project.
Note: If you are an HDR student, your first meeting with a DBSU biostatistician must also include your supervisor.
Are you external to Deakin?
Enquiries from health and medical researchers located in other organizations are welcome and should be addressed to:
Associate Professor John Reynolds
Head, Deakin Biostatics Unit
Faculty of Health, Deakin University
221 Burwood Highway
Burwood
VIC 3125
Australia
john.reynolds@deakin.edu.au
+61 3 925 17096
---
Researchers employed by Barwon Health are encouraged to contact:
Dr Steve Lane
Research Fellow
Barwon Health Biostatistics Unit
stephen.lane@barwonhealth.org.au
+61 3 4215 2031
---
Researchers with interests in epidemiology and population-based research into musculoskeletal and metabolic disorders and the connection between physical and mental health are encouraged to contact:
Professor Julie Pasco
IMPACT Strategic Research Centre
Epidemiology Unit for Musculoskeletal and Metabolic Disorders
julie.pasco@deakin.edu.au
+61 3 4215 3331
Biostatistics Unit FAQs
We provide open-access consulting and collaborative support to staff and HDR students in the Faculty of Health at Deakin University.
Requests should be directed to the Head of the DBSU and will be considered on a case-by-case basis - availability of resources, relevance to the overall mission of the Faculty of Health and recovery of salary and associated on-costs will be considerations.
The DBSU can provide biostatistical support for projects initiated and sponsored by external clients subject to the availability of resources and provided the projects are aligned with the overall mission of the Faculty of Health. Arrangements will be managed by Deakin Research Commercial but, in the first instance, clients should contact the Head of the DBSU to discuss the proposed project.
Early consultation with an experienced biostatistician will help to ensure that the study design and execution enable the aims of the research project to be addressed. Experienced biostatisticians are skilled at checking the alignment of objectives with measurable endpoints and with nominated statistical methods during the development of a proposal and a protocol. Obtaining biostatistical input into the study design is especially important if you are applying for competitive research finding as it will help to strengthen the scientific quality of the proposal. Including a named biostatistician in the research team will also demonstrate to the funding agency that the faculty has the required research "infrastructure" to support the proposed project.
After discussion of your intended proposal with your project biostatistician, it may become clear that biostatistical inputs into the design, conduct and reporting of the project may require a non-trivial amount of time (i.e. more than 100 hours over the life of the project). Provision should then be made for securing funding to cover the cost of these inputs, subject to the funding agency's guidelines. Projects that require sustained biostatistical input may require the establishment of a temporary position or ring-fencing of a portion of a full-time equivalent (FTE) biostatistician.
We advise you to discuss this with a biostatistician who will help to identify an appropriate statistical method for each aim of the study. This discussion is best held before data is collected, and in research with human subjects, it is essential during development of the protocol.
At this stage, the DBSU does not offer assistance with database design and construction, or data management (e.g. data entry, data validation and cleaning, data linkage or data extraction). However, we can provide high-level advice on aspects of database design and edit checks.
Page custodian: Digital Presence, eSolutions Last updated: