Background and evolution
Background
The Faculty of Health, Medicine, Nursing and Behavioural Sciences established the Public Health Research, Evaluation and Policy (PHREP) Cluster in 2003 as a true multi-disciplinary, cross-school research cluster with its own cost centre, Business Manager and support staff. The PHREP pilot proved to be an effective model to attract productive and high-impact research groups.
Evolution
In late 2009 Deakin University created 11 Strategic Research Centres, each led by a Director responsible for driving the research agenda, planning for growth, mentoring researchers, benchmarking performance and ensuring quality outputs. Directors are also responsible for working collaboratively with colleagues in Faculties and Schools to stimulate research activity across the University.
The core members of Deakin Population Health (DPH) have international reputations, a track record of attracting external research grants and an established ability to create partnerships with industry.
This research environment stimulates research and research training, makes more efficient use of infrastructure and assists Deakin University to build a stronger research profile. In turn, DPH offers its staff the opportunity to work together in more systemic and sustained ways.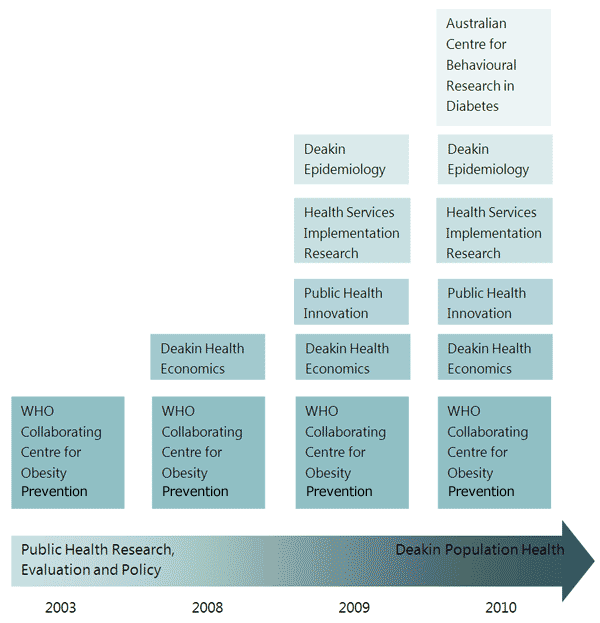 Page custodian: Digital Presence, eSolutions Last updated: