Professor Walker named Alfred Deakin Professor
1 March 2012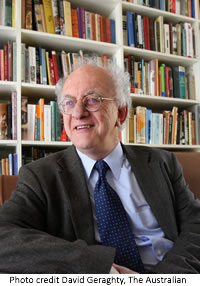 Professor Walker commenced at Deakin University in 1991 as Chair in Australian Studies. He has long been recognised, in Australia and internationally, as a leading cultural historian and has contributed to the development of Australian Studies programs in universities in Indonesia, China and Japan.
Prior to joining Deakin University Professor David Walker graduated from Adelaide University with an honours degree in History. He completed his PhD in the Research School of Social Sciences at the Australian National University in 1972. He lectured in History at Auckland University before moving to the History Department at the University of New South Wales in 1977, serving as Head of the School of History in 1990.
In 1997/98 Professor Walker held the Monash Visiting Chair of Australian Studies at Georgetown University, Washington, DC. In 2001 he was elected as Fellow of the Academy of Social Sciences in Australia and in 2005 he was elected as Fellow of the Australian Academy of the Humanities. Since 2005 he has been a Visiting Professor in the School of Foreign Studies at Renmin University, Beijing.
In 2010 Professor Walker held the 'Distinguished Visiting Chair of Australian Studies' at the University of Copenhagen and he received the Deakin University Award for Research Excellence.
As Professor of Australian Studies at Deakin University, Professor Walker has taught a wide range of subjects from survey courses to specialist seminars. He regularly teaches large first year units with enrolments of between 150 and 250 students and he consistently achieves high student evaluations. Professor Walker has supervised and examined many PhD theses and he is the primary external supervisor of MA theses written by students in the Australian Studies Centre. In a three-year program there are now six final year students each year.
Professor Walker's book, Anxious Nation: Australia and the Rise of Asia, 1850-1939, has received much attention and recognition since its publication in 1999; it was awarded the Ernest Scott prize for the best history of Australia or New Zealand published in 1999/2000 and Professor Walker has subsequently been awarded two ARC Discovery Grants for two further volumes of this study.
In 2011 Professor Walker's latest book, Not Dark Yet: A Personal History, was published; it is a memoir about the history of his family from the time of their settlement in South Australia in the late nineteenth century. He has also signed a contract for a new co-edited publication to appear later this year.
2012 - Professor Walker is widely published, specialising in the historical examination of Australian responses to Asia.
Page custodian: Faculty of Arts & Education Last updated: