Deakin Cats Community Centre
The Deakin Cats Community Centre is an 800 square metre facility on the ground floor of the new Players Stand at Simonds Stadium which includes a computer lab, meeting room and a multi-purpose area. This space is purpose built to facilitate community, education and learning. It is fitted out with the latest technology.
Cats chief executive Brian Cook said: "We are thrilled to partner with such an innovative organisation as Deakin University. The partnership reflects a dynamic relationship between the two organisations. We look forward to continuing to add to the already large number of mutually beneficial opportunities with Deakin University."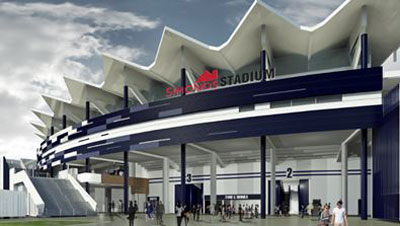 Deakin University Vice Chancellor Jane den Hollander said: "Deakin University is delighted to be furthering its partnership with the Geelong Cats through the Deakin Cats Community Centre. The centre brings together so much of what is important for Deakin and our Geelong community. With the potential to raise education aspirations of students across our community, Deakin University are looking forward to watching this opportunity flourish."
This state of the art facility is a hub for the Cats in the Community program as well as a resource for external organizations as a training venue and meeting facility.

The facility is over 800 square metres and key features include:
Memorabilia gallery with the zenith of Club ephemeras
Office space, kitchen facilities, toilets
Deakin Cats Community Centre Information
Deakin Cats Community Centre Multi-Purpose Room
For all Deakin usage enquiries, contact Julie Hope - Community Relations Manager Geelong
Page custodian: Digital Presence, eSolutions Last updated: