Deakin Cats Community Centre
The Deakin Cats Community Centre is an 800 square metre facility on the ground floor of the Players Stand at Simonds Stadium which includes a computer lab, meeting room and a multi-purpose area. This space is purpose built to facilitate community, education and learning. It is fitted out with the latest technology.
Deakin University Vice Chancellor Jane den Hollander said Deakin is proud to be involved in such a fantastic facility, which celebrated its 30,000th visitor in March 2015.
"Pride in our football club is something Geelong is famous for, and just like our beloved Cats, this amazing Deakin Cats Community Centre brings people together across social boundaries and diverse interests," Professor den Hollander said.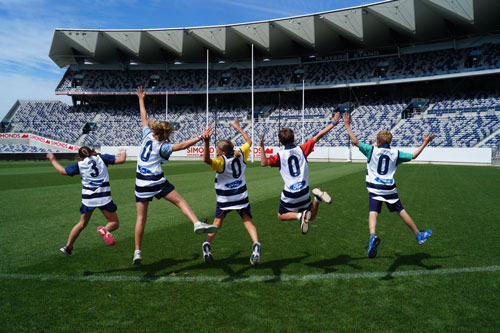 "With every person who walks through its doors, the Deakin Cats Community Centre is raising educational aspirations – for all students to be as good as they can be and this includes indigenous students, others who have been disadvantaged in some way and those busy with work and other responsibilities.
"This is a remarkable milestone and Deakin looks forward to watching the centre continue to flourish as it welcomes its next 30,000 visitors."
Geelong Cats Chief Executive Brian Cook said the Deakin Cats Community Centre represents the club's commitment to community development, inclusion, support and serving the region.
"We are proud to reach 30,000 visitors but more so we're proud that we have had 54 different community organisations deliver health and wellbeing sessions from the centre. We are able to offer a state of the art facility free of charge to user groups," Mr Cook said.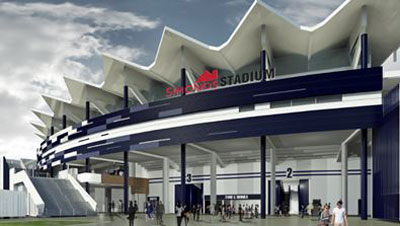 The facility is over 800 square metres and key features include:
Memorabilia gallery with the zenith of Club ephemeras
Office space, kitchen facilities, toilets
Deakin Cats Community Centre Information
Deakin Cats Community Centre Multi-Purpose Room
For all Deakin usage enquiries, contact Julie Hope - Community Relations Manager Geelong
Page custodian: Vice-President (Advancement) Last updated: