Royal Geelong Yacht Club Crew Party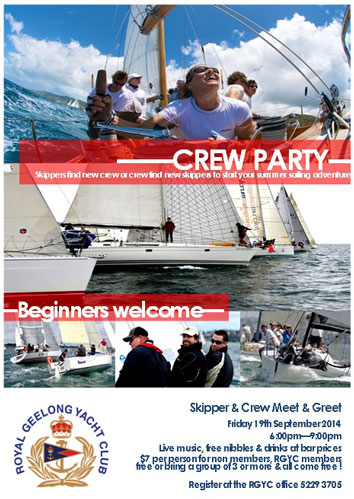 Event details
Date
Friday 19 September 2014
Time
6 pm - 9 pm
Location
Royal Geelong Yacht Club, Eastern Beach Road Geelong
Cost
$7.00 or Free entry for groups of 3 or more
As proud sponsors, Deakin Staff and Students are invited to join the Royal Geelong Yacht Club in their annual Crew Party 'start your summer sailing adventure' - Skipper and crew meet and greet.
Come and enjoy live music, free nibbles and drinks at bar prices.
$7 per person for non members, RGYC members free or bring a group of 3 or more and all come for free!!
Register at the RGYC office 5229 3705
Page custodian: Vice-President (Advancement) Last updated: