Shifting Skin Exhibition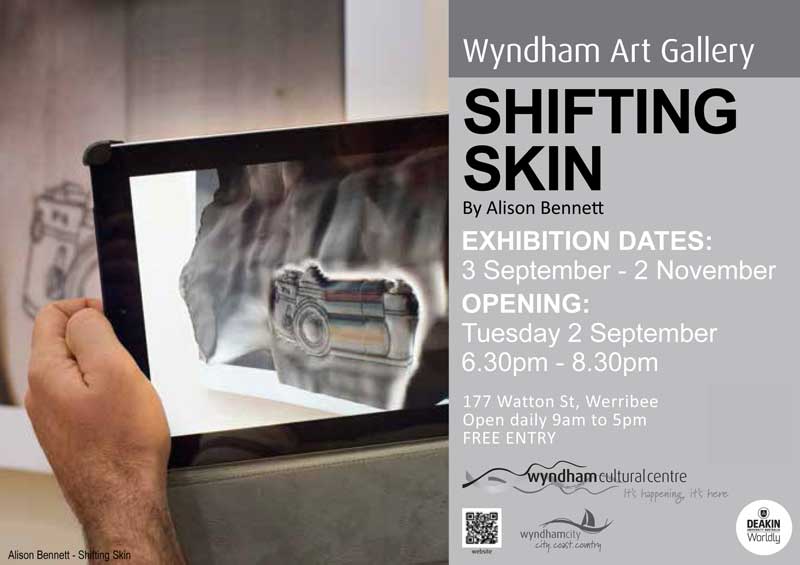 Event details
Date
Tuesday 2 September 2014
Time
9 am - 5 pm
Location
Wyndham Art Gallery, 177 Watton Street, Werribee
Cost
Free
Deakin University is pleased to present the work of artist Alison Bennett in the exhibition Shifting Skin, opening in Werribee.
Alison Bennett's exhibition Shifting Skin, was organised by and shown at Deakin University Art Gallery, Melbourne Campus at Burwood in 2013. It then toured to Deakin's Waterfront campus in Geelong, a venue in Sydney for the Mardi Gras, Swan Hill Regional Gallery and is now at Wyndham Art Gallery, 177 Watton Street, Werribee from 3 September to 2 November 2014. The official opening is Tuesday 2 September, 6.30 to 8.30pm. The exhibition will then be open daily from 9.00 am to 5.00pm admission is free.
The exhibition displays the work of Alison Bennett and presents a dense unpacking of the rapidly expanding and changing relationships between the body and technology. Centred on the internet and social media, the exhibition has so far received both local and incredible international coverage, examples of which can be found at: http://shiftingskinonline.wordpress.com/.
Page custodian: Vice-President (Advancement) Last updated: