Deakin-Gordon MOU
30th July 2014
The Hon Nick Wakeling MP, Minister for Higher Education and Skills recently joined Deakin Vice-Chancellor, Professor Jane den Hollander and Chief Executive Officer of The Gordon, Ms Lisa Line to sign a Renewal of Memorandum of Understanding between Deakin University and The Gordon Institute, and, to launch the Deakin / The Gordon Pathways Program (with Guaranteed Entry).
The Deakin Pathways Program seeks to encourage increased participation in higher education a changing tertiary education sector, increase participation by first in family and regional students, as well as providing a supported student transition to higher education through supported VET programs. The Program will substantially expand career outcome-focused pathways into Deakin courses from VET programs by targeting prospective VET students, current VET students and TAFE/RTO graduates by offering mapped pathways and developing deep and strong relationships with VET providers.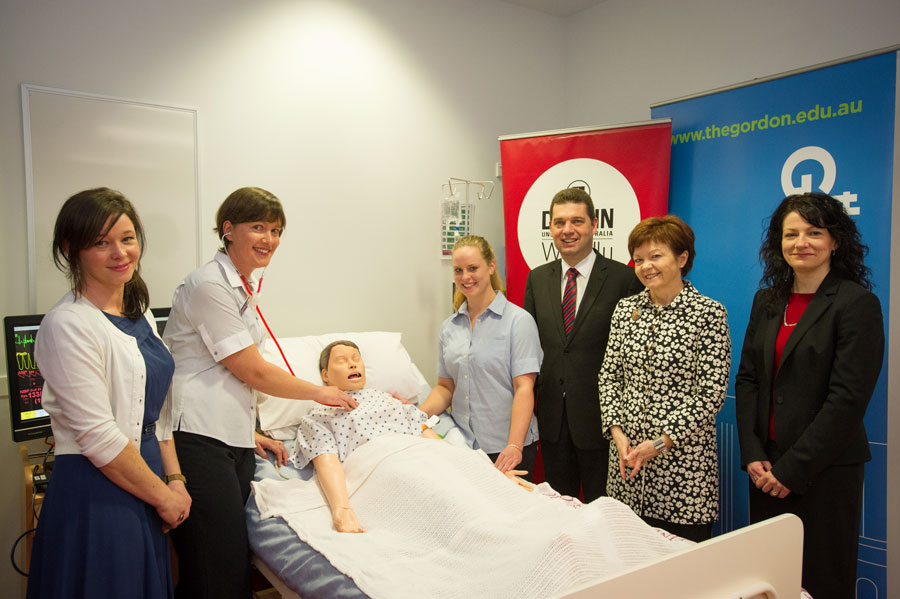 Deakin and The Gordon have a long-standing arrangement that provides recognition of studies at The Gordon, with Credit for Prior Learning. As part of a the Deakin Pathways Program, the two organisations have extended this partnership to provide students who are starting out at The Gordon with increased surety about their pathway into higher education at Deakin after completing a Diploma / Advanced Diploma at The Gordon.
The Gordon and Deakin provide pathway students with the opportunity to enter university with Credit for Prior Learning of up to one and a half years towards a Bachelor's degree, and, as being launched at this event, Guaranteed Entry in specified courses after satisfactory progress in TAFE studies
Page custodian: Vice-President (Advancement) Last updated: