Werribee youngsters on education journey from birth thanks to playgroup partnership
11th June 2014
They are yet to begin school and some haven't even started talking, but a group of Werribee's youngest residents is already experiencing the benefits of the tertiary education system, thanks to a partnership between Deakin University and Corpus Christi Primary School.
Each Wednesday for five weeks, mums and dads of pre-schoolers with older siblings at the school are being invited to bring their youngest children along to take part in a playgroup facilitated by Deakin University's School of Education. The new Corpus Kids Playgroup is a pilot program between Corpus Christi Primary School and Deakin's and The Gordon's Werribee Learning Centre.
Deakin University Professor of Education Andrea Nolan said the playgroup would provide a variety of educational experiences for young children and their parents during a period of growth that had a vital impact on a child's future development.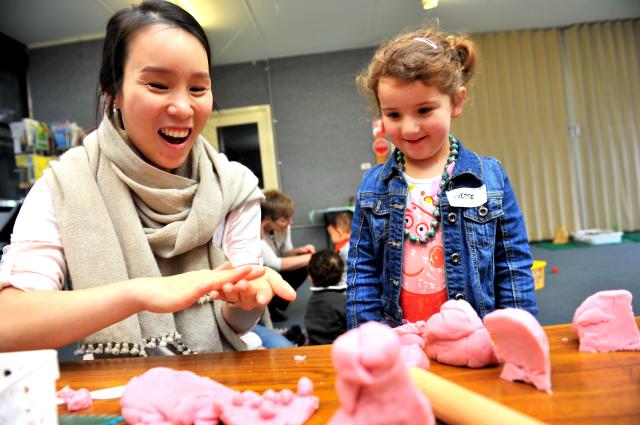 Prof Nolan said key known benefits of facilitated playgroup environments included new friends, new experiences, improved confidence, improved social and communication skills, learning to work collaboratively with others, expression of ideas and feelings through art or imaginative play, development of mathematics skills, along with fine and gross motor skills and an expanded oral language development all in a fun environment.
The five week program will operate throughout June, each Wednesday between 9am and 10am at Corpus Christi Primary School.
---
Page custodian: Vice-President (Advancement) Last updated: