Scholarships for international students
We have great scholarship opportunities for international students who have something special to offer our university and community.
These scholarships can assist you with course fees, living costs, and smaller items like your books and study materials.
Deakin STEM Scholarship
The Deakin Science, Technology, Engineering and Mathematics (STEM) Scholarship is a 20 percent scholarship for Indonesian students applying for undergraduate, postgraduate coursework in the disciplines of Architecture and Built Environment, Engineering, Information Technology, Science or Environment.
LPDP Scholarship
The LPDP Scholarship is funded by funded by the Indonesian Government for postgraduate studies in Indonesia or an overseas institution including Deakin University.
Upcoming events
Deakin University is coming to Indonesia. Come and speak with us at an event below to learn more about Deakin.
DATE AND TIME
LOCATION
REGISTRATION
Mon 2 Oct
2pm-6pm
Meet Deakin in Bali
Ibis Styles Denpasar
Plumeria 4-5
Jl Teuku Umar no. 183
Register now
Tue 3 Oct
2:30pm-5pm
Meet Deakin in Makassar
IDP Office
Jl. Yosef Latumahina No. 1-D
Register now
Sat 7 Oct
1pm-5pm
Meet Deakin in Bandung
IDP Office
Jl Sulanjana No 3
Dago
Register now
Please note that events are subject to change. To confirm event details and to RSVP, please email indonesia@deakin.edu.au
Taking advantage of our pathways
You might need to spend some time improving your academic scores or English before you start your Deakin course.
You can do this at Deakin College or the Deakin University English Language Institute (DUELI) – they're both on campus in Australia, which means you can get to know your campus, fellow students and Deakin staff before you start your degree.
Find out more about pathways into Deakin
---
Partnerships
Deakin benefits from partnerships with Indonesian institutions including Institut Teknologi Bandung (ITB) and Universitas Indonesia, across a range of disciplines.
Partner programs
Deakin offers a range of unique program with Indonesian partners to allow students to complete double degree programs. Students complete the first one or two years in Indonesia and the final two years of their degree at Deakin University in Australia. Students will obtain two degrees.
Indonesia International Institute of Life Sciences (i3L)
Indonesia International Institute of Life Sciences (i3L) & Deakin Biomedical Science Double Degree Program
Bachelor of Food Science from i3L and Bachelor of Food & Nutrition Science from Deakin
Bachelor of BioMedicine from i3L and Bachelor of BioMedical Science from Deakin
Bachelor of BioTechnology from i3L and Bachelor of BioMedical Science from Deakin
Universitas Indonesia
Universitas Indonesia & Deakin Civil Engineering Double Degree Program
Universitas Indonesia & Deakin Information Technology Double Degree Program
Universitas Indonesia & Deakin Communications Double Degree Program
Institut Teknologi Bandung
Institut Teknologi Bandung & Deakin Information Security Double Degree Program
Get your degree from Deakin
We offer undergraduate, postgraduate and research degrees to international students. Once you've graduated, you can connect with other Deakin alumni in Indonesia and around the world.
You might even have the chance to stay in Australia to continue your studies or get work experience in your chosen field.
Spend some time studying at Deakin
Complete part of your undergraduate, postgraduate or research degree with Deakin's study abroad program and you'll earn credit points towards your degree back home.
Choose to study one to two trimesters or complete a full academic year as an exchange student.
Yesy's story
'My journey living in Melbourne and studying at Deakin helped me grow as a person and this is something that I would not trade for anything else.'
Find a course
We offer courses and subjects across all major disciplines. Some of our courses that are particularly in demand in Indonesia include creative arts, business, accounting and commerce.
Navigator graduates – Ignatius Satrio, Indonesia
Meet Rio, Deakin University media and communications graduate.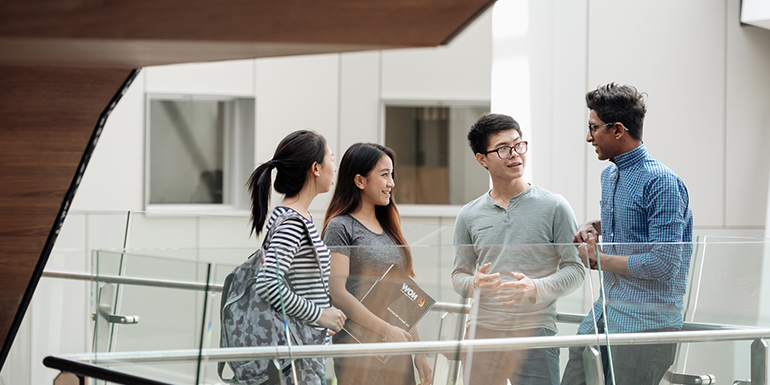 Study in Australia – you'll love it
Apply for your student visa online
As a student from Indonesia, you may be eligible to study and live in Australia on a student visa.
Once your student visa has been issued, it will be valid for your whole course of study (as long as you meet all your visa conditions).
You can apply for your student visa online or with the help of one of our representatives in your country.
Climate
Australia might be famous for its sunny beaches, but we also have lush rainforests and mountain ranges that see snow in winter.
Our weather also varies a lot – you'll want light clothes to wear in summer and a warm coat for winter (and don't forget clothes to wear to the beach).
You can work part time while you study
You'll be able to work up to 40 hours a fortnight while you're studying in Australia on a student visa. If you're not studying during Trimester 3 (our non-compulsory trimester) you can work unlimited hours.
Here at Deakin, we have a service called Job Search Essentials that can help you get job ready and find part-time work.
Find out more about working in Australia
Find your community at Deakin
At Deakin, we have a thriving community of students from Indonesia.
At the heart of that community is our Indonesian Club, which organises social events and engages with students. The club is particularly welcoming of new students and will help you to settle into your studies and new life in Australia.
Find out more about support for international students
Find a place to call home
With a welcoming student community and lots of on-campus shops and services, Deakin will feel like home in no time at all.
We have student accommodation at each of our campuses and a service to help you get settled if you'd like to live off campus.
Contact us
Prospective students are advised to contact the Indonesia office directly.
Deakin University Indonesia office
+62 21 290 222 18
+62 21 290 222 19 (fax)
Email Deakin's Indonesia office
Level 5, Grand Slipi Tower
Jl. Letjen S.Parman Kav. 22 -24, Slipi
Jakarta Barat 11480, Indonesia
Still haven't found what you are looking for?