Publications
Our most recent publications are featured, while a full listing of our earlier works can be found at the bottom of the page. All of the Centre's publications are available for download. Limited hard copies are available upon request. Please contact the Centre if you would like more information about out publications.
Linking Law: Practical Guidelines for Delivering Law to Rural Victoria using E-Learning Technologies
These guidelines have arisen from a research project funded by the Telematics Trust, and provide information, analysis and practical tips for organisations seeking to use d igital technologies to enhance general professional legal education for people living in remote, rural and regional (RRR) locations. While RRR areas are benefiting from increased reach of speed internet, much can be achieved with intelligent use of a range of lower-tech options including low-speed internet, phone, DVD and regional site based education technologies.
In this publication you'll find a range of practical, digitally based options that are available for different educational purposes, plus a set of protocols for implementing them so that RRR people can gain maximum educational benefit. Organisations can access guidance on best practice, the major part of this document contains guidelines for choosing and implementing tools from a wide range of digitally based education options. The guidelines highlight a a range of factors reflecting important practical and pedagogical concerns, including access, cost, need for specialist IT support, cohort size and ability to support particular learning designs and types of communication.
Download the guidelines: Linking Law: Practical Guidelines for Delivering Law to Rural Victoria using E-Learning Technologies (PDF, 6.6 MB)
---
Landscapes of Violence: Women Surviving Family Violence in Regional and Rural Victoria.
This project combines the findings of two studies undertaken by the CRRLJ. Drawing on and extending the findings in Women's experience of surviving family violence and accessing the Magistrate's court in Geelong, Victoria (2013), this report extends the research in terms of geographic areas, issues covered and range of participants. It examines the experiences of, and outcomes for, women survivors of family violence in regional and rural Victoria, considering their contact with, and perceptions of, government agencies as well as private and community advocates (legal services, women's services and family violence services) and healthcare professionals.
Through this research, survivors have identified issues and barriers they have encountered in escaping family violence, and have provided suggestions in regards to how both the criminal justice system and the broader Victorian community might assist survivors and help prevent family violence. As well as being informed by survivors, this publication includes insights provided by government and non-government practitioners and organisations who have offered their views on this report's key findings and recommendations.
Download the full report: Landscapes of Violence: Women Surviving Family Violence in Regional and Rural Victoria (PDF, 2.5 MB)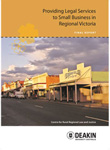 This report examines the legal needs of rural and regional small business in Victoria and identifies a number of areas in which law firms must change if they are to adapt to the changing needs of small business in regional Victoria.
The research, which was funded by the Legal Services Board and examined the experiences of 207 small businesses operating in rural/regional Victoria and 68 rural/regional lawyers, reveals a disconnect between law firms and small business which limits the opportunities for law firms to actively add value to those businesses.
The report also raises concerns around the availability of legal services in rural/regional areas with a third of lawyer participants indicating that the legal needs of local small businesses are not currently met. Small business using the services of a law firm indicated a high level of satisfaction. However when the skills, services and availability of local legal practitioners was analysed by remoteness, a consistent trend emerged, with a lower level of satisfaction in outer regional and remote areas compared to inner regional areas.
The report highlights the significant potential for rural/regional law firms to expand the scope of their services. While recent studies have raised concerns around the continuing viability of law firms in regional Australia, the report highlights unique opportunities for rural regional practitioners to firmly establish themselves as local specialists, particularly in relation to areas such as carbon trading, water trading, and succession planning. The report further suggests that the local expertise of regional law firms places them in a distinctive position to be able to assist rural regional small business to optimise the commercial opportunities arising as a result of these.
For more information download the media release: New Report indicates regional law firms must adjust to meet the changing needs of small business (PDF, 73.2 KB)
Download the Providing Legal Services to Small Business in Regional Victoria (PDF, 2.0 MB) Report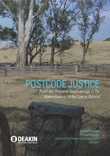 Richard Coverdale, Research Fellow with the School of Law has recently produced a report Postcode Justice: Rural and Regional Disadvantage in the Administration of the Law in Victoria (PDF, 8.4 MB) . The report, funded by the Victoria Law Foundation, reveals a range of areas in which regional and rural Victorians are disadvantaged when participating in the justice system.
A number of major findings of this report include:
Specialist Magistrates' Courts and Court programs available in Melbourne are only availability at a few regional locations, which impacts on outcomes for court users
Current sentencing arrangements in regional Victoria assume a level of local community agencies which often don't exist in many smaller regional and rural areas
County Court hearing date allocations at regional circuit courts are different to arrangements for the Melbourne County Court, which has major implications for the provision of 'natural justice'.
Other issues identified by the survey participants include:
79% agreed regional communities are disadvantaged by the distance they are required to travel to attend court
74% of all survey respondents agreed that an independent authority should be established to provide advice to government on policies and legislation which impacts on rural and regional Victorians
69% of regional lawyers raised 'conflict of interest' as an issue which adversely impacted on their ability to provide services to regional clients
67% of all survey respondents agreed that legislation tended to be developed centrally without due consideration for its impact on rural regional communities
67% of all survey respondents agreed that court orders and penalties do not adequately reflect the differing circumstances of people living in regional areas.
Download the Postcode Justice (PDF, 8.4 MB) Report Listen to a response to the Postcode Justice research report from the Chief Magistrate of Victoria, Ian Gray on ABC Regional Radio
These selected papers were presented to the inaugural National Rural Regional Law and Justice Conference (Warrnambool, Victoria, on 19–21 November 2010) and published in a special edition of the Deakin Law Review. The Conference provided a unique forum for people from a broad range of professions and interests to converge and share ideas, experiences and knowledge to advance equity and justice for rural and regional Australians.
The Conference was attended by over 100 delegates from all states and territories, representing federal, state and local government, rural industry, legal practitioners, academics, Legal Aid, Community Legal Services, and indigenous, youth, and other regional advocacy and support services.
Subscribe to the Deakin Law Review
Deakin Law Review Volume 16, Issue 1 2011
Preface - The National Rural Regional Law and Justice Conference (PDF, 170.0 KB)
Richard Coverdale
Law and Justice Outside the CBD (PDF, 264.2 KB)
Chief Justice Robert French
Access to a Lawyer in Rural Australia: Thoughts on the Evidence We Need (PDF, 499.0 KB)
Simon Rice
Strategies for Meeting Rural Legal Needs: Lessons from Local, Regional and International Experience (PDF, 882.5 KB)
Kim Economides
Professional Services and Rural Services Poverty (PDF, 1.2 MB)
Paul Martin, Jacequeline Williams, Amanda Kennedy
Bush Lawyers in New South Wales and Queensland: A Spatial Analysis (PDF, 625.1 KB)
Kevin McDougall, Reid Mortensen
Legislative and Community Support for Offending Reintegraton in Victoria (PDF, 340.4 KB)
Lesley Hardcastle, Terry Bartholomew, Joe Graffam
Youth Justice: Challenges in Responding to Young People Convicted of Sexual Offences (PDF, 342.5 KB)
Wendy O'Brien
Postcode Justice: Rural and Regional Disadvantage in the Administration of the Law (PDF, 1.9 MB)
Richard Coverdale
Access to Environmental Justice (PDF, 352.5 KB)
Felicity Millner
Using Technology to Increase Support for Rural and Regional Legal Professionals (PDF, 315.3 KB)
Amanda Kennedy, Stephen Winn
Sustainable Regional Legal Practice: The Importance of Alliances and the Use of Innovative Information Technology by Legal Practices in Regional, Rural and Remote Queensland (PDF, 573.6 KB)
Caroline Hart
Recruitment and Retention of Community Sector Lawyers: Regional Differences within New South Wales (PDF, 408.7 KB)
Michael Cain, Suzie Forell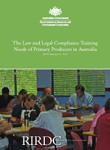 The Law and Legal Compliance Training Needs of Primary Producers in Australia (PDF, 1023.7 KB) report was produced in 2009 through funding made available by the Rural Industries Research and Development Corporation.

The research project consulted with 76 individuals in focus groups, face to face meetings and telephone interviews and undertook a national survey, with responses from 290 primary producers and 57 agribusiness service staff and rural financial counselors.

This research report indicates the areas of law primary producers identify are priorities for their businesses and factors that influence the effective delivery of training on law and legal compliance to this market. A proposed model for the development and delivery of law and legal compliance training, which takes into account the capacity and needs of the industry, has also been provided within the report.

The report highlights the need for a greater emphasis on information and training on law for primary producers and will assist industry, education/training organisations and government to identify and prioritise law topics for training as well as determine the most effective ways of delivering that training.
Download The Law and Legal Compliance Training Needs of Primary Producers in Australia (PDF, 1023.7 KB) report.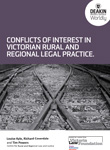 Produced by the Centre for Rural Regional Law and Justice, with the financial support of the Victoria Law Foundation, the report was initiated in recognition of a greater perceived prevalence of conflict of interest occurring in rural and regional legal practice and the lack of research in this area.
Based on responses to surveys and interviews with Victorian rural and regional legal practitioners, the research reveals variations in approaches to conflict of interest depending on factors such as the remoteness of legal practices, years of experience of practitioners, and size, type and area of practice. It also identifies limitations of the current Professional Conduct Rules when applied to the circumstances of rural and regional legal practice, a view strongly held by practitioners surveyed, suggesting a change of approach to one which more formally recognises and encourages practitioner's use of their professional judgment.
A list of recommendations, including in relation to legal practice, mentoring, ethics training and the current complaints process, provide a basis for advancing and responding to the findings of the report.
Download the Conflicts of Interest In Victorian Rural and Regional Legal Practice report (PDF, 6.9 MB)
Download the print ready DL brochure for clients. (PDF, 642.8 KB)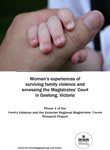 This research aims to provide a comprehensive account of the lived experiences of women attempting to secure safety and justice in the Geelong region as a result of family violence. It documents the experiences of women accessing the Geelong Magistrates' Court and related justice system services and includes issues faced by workers supporting them. It is the first phase of a larger research project examining women's experiences across regional Victoria.
Overwhelmingly, the key concern of the women interviewed for this research was the impact of the violence on their children. Other concerns included the long waiting times at court due to the high volume of cases the court processes; limited safe separate waiting areas for women appearing for FVIO applications; and the need for more funding to be available in the Geelong region to enable all survivors of family violence to access timely and affordable legal representation. Our findings suggest the need for a more consistent approach to survivors seeking safety and justice, including increased levels of specialist training for all justice system personnel working on family violence cases.
Download (PDF, 739.7 KB) the report here
Page custodian: Faculty of Business & Law Last updated: