Frequently asked questions
Deakin Graduate Learning Outcomes describe the knowledge and capabilities graduates have acquired and are able to apply and demonstrate at the completion of their course. They consist of outcomes specific to a particular discipline or profession as well as transferable generic outcomes that all graduates should have acquired irrespective of their discipline area.
Learning outcomes are not confined to the knowledge and skills acquired within a course, but also incorporate those that students bring with them upon entry to the course consistent with the Australian Qualifications Framework pathways policy. Deakin's courses are designed to ensure that students develop systematic knowledge and understanding of their discipline or chosen profession appropriate to their level of study. They are specified at the course level, mapped to course components and are assessed. In professionally-accredited courses, discipline-specific learning outcomes may be defined in part by the relevant professional body. Deakin Graduate Learning Outcomes include:
Discipline-specific knowledge and capabilities
Communication
Digital literacy
Critical thinking
Problem solving
Self-management
Teamwork
Global citizenship.
Deakin graduates will be able to evidence these capabilities as appropriate to the relevant level criteria of the Australian Qualifications Framework.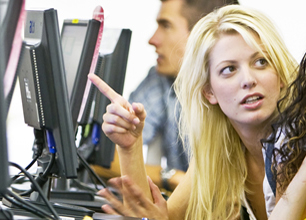 In brief, Deakin's move to 'premium cloud and located learning' denotes our intention to design and enhance courses to enable students to evidence their achievement of the capabilities that count, particularly through reimagined assessment supported by accessible, highly visual, interactive learning resources, including open educational resources.
Deakin's cloud learning environment is currently known as CloudDeakin. This is a set of tools including a learning management system (Desire2Learn) as well as other tools to add functionality. In late October 2012, Desire2Learn was be upgraded to Version 10, giving it a slightly different look, and new functionality. In 2013, we will continue to upgrade and streamline to make the cloud learning environment more personalised, more streamlined, and more intuitive.
Deakin has built a reputation for excellence in teaching and learning, and much of that excellence is due to a very well supported distance education environment with comprehensive study guides. At present, study guides are in print, or presented in CloudDeakin as PDF documents. They are an excellent basis upon which to build for the future. The plan is to continue to use study guides, and then, as courses are enhanced for the cloud, develop them into forms that work well in the cloud. For example, they can be enhanced to present short information sections followed by interactivity. This development will be fully supported by Deakin Learning Futures as part of the course enhancements.
Deakin's new strategic agenda signals a move to the cloud: the future is digital. While printed learning materials can be useful, digital resources can be designed for greater interactivity. Deakin Learning Futures will focus on producing and linking to engaging digital learning materials for the cloud environment. Decisions about printing learning materials are negotiated between Faculties and Campus Logistics.
Deakin Learning Futures brings together the work of the former groups, and builds capacity for faculties to achieve Deakin's new strategic agenda through greater focus on:
digital, less focus on print: Deakin Learning Futures will focus on producing and linking to engaging digital learning materials for the cloud environment
courses, less focus on units: Deakin Learning Futures' main focus will be on enhancing courses and less on preparing individual unit resources (study guides, readers and so on). The latest version of files and materials previously developed by KMD will be copied over to Faculties, who will manage updating, reprinting, distribution and version control. DLF will archive all files copied to faculties, as required by Corporate Governance, Risk and Compliance Services
teaching and learning, less focus on events and services not related to teaching and learning: Deakin Learning Futures resources will primarily support teaching and learning. Deakin Learning Futures image and audio teams, for example, will generally be unavailable to assist with non-teaching and learning related events.
Yes, to enable us to implement the new strategic agenda, we are currently updating our curriculum framework. This will be focused on how Deakin courses are designed and implemented to ensure that graduates achieve Deakin's Graduate Learning Outcomes. Assessment is already of a high calibre in our courses, but we can always do better. So, assessment will be at the heart of the new curriculum framework: we aim to focus on making assessment fit for purpose, engaging and designed for learning. The underpinning principles will be those espoused by Boud et al. (see Assessment 2020: Seven propositions for assessment reform in higher education).
Deakin Learning Futures supports faculties to enhance courses to improve: course engagement (intellectually challenging and engaging cloud and located assessment, resources and experiences); course effectiveness (outcomes such as graduate satisfaction and employability); and course efficiency (ensuring sustainability and affordability). To manage resources and expectations across the University, course enhancements are either: fully-supported (Deakin Learning Futures will assist in stages 1, 2 and 4, and assign significant resources for stage 3) or faculty-supported (Deakin Learning Futures will assist in stages 1, 2 and 4). Comprehensive information on the process, the plan and timetable are available.
Deakin Learning Futures provides access to capacity building opportunities for individual staff. We are building a range of self-directed learning resources in the cloud and we are available for one-on-one consultations (in person or by phone, video conference) (email learningfutures@deakin.edu.au.) We also work with groups, large and small: you can register for pre-organised events for small groups. We also offer customised events for schools and departments or interest groups, on request (email learningfutures@deakin.edu.au).
Deakin Air, a space where you can upload video and then easily add it to your CloudDeakin site or other web page using the provided embedded code, can be found at http://air.deakin.edu.au. Presently, only staff can upload videos, but once there, they can be shared with students etc.
Page custodian: Deakin Learning Futures Last updated: