Navigating CloudDeakin
Context Menu
The learning environment makes extensive use of context menu to initiate tasks and actions.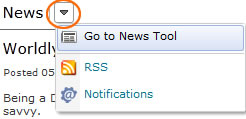 Understanding CloudDeakin Home page

The navigation minibar is located at the top of every page. The minibar enables you to switch in between units; navigate to CloudDeakin Home page; receive notifications; and update your profile and preferences.
CloudDeakin Home page is your starting point inside the online learning environment. From here, you can set up your profile, edit your preferences and access your units.
When you first log in to CloudDeakin Home page you will be able to:
view news posted by the University
access your units under the My Sites widget
view up-coming events and news
The units you are enrolled in will be visible in the My Sites widget. (A widget is an area on a webpage that houses a tool or has other information). Click on the name of your unit. This will take you to your unit.
Understanding Home page
Home page is the first page viewed when entering a unit. This is where you access learning resources, discussion board, quizzes and assignments for the unit. Similar to CloudDeakin Home page, it contains your tools and different widgets for displaying information, including unit-specific resources.
The primary navigation tool for a unit is the navigation bar, which is located at the top of the screen and displays links to the tools available in you unit. Within each tool there are tool menus to navigate to different sections and pages, and tabs to switch between sections within a page.
Faculties will have unique navigation bars.

The Resources tool is used to organise unit materials, such as the unit guide, lecture notes and readings. The Resources tool enables you to create, edit, organise, and delete modules and topics in your unit. Using the Resources tool you can:
create and edit the modules and topics that make up the unit
import unit resources from existing sources
change the way the learning environment displays your unit resources
create links to other areas of your site where students will complete their work e.g. Discussions.
The Navbar (or navigational bar) is a banner that displays the unit title and its set of links across the top of all unit pages. It is used to navigate between tools and Home pages. Each unit has its own Navbar that links to relevant tools for that unit. Tools can be unit specific or organisation-wide depending on their purpose. For example, if you click the Grades tool link in a unit Navbar you are taken to the Grades tool for that unit. The NavBar is always available when navigating through a site. Navbars consist of two components: a Navbar template, which controls the visual theme of the Navbar; and the Navbar itself, which controls whichever links are available for the unit. Default Navbars will be provided by your Faculty or School. Unit Chairs will be able to make a copy of the default Navbar and add additional links and tools. Navbars are Faculty or School specific.
Note:
In general, add tools that you want students to use to complete unit work (Assignments, Grades, etc.) to your unit Navbar.
You cannot add all tools and functionality to a Navbar. Some tools, such as tools for personal administration (Preferences, Change Password, Profile, etc.) or tools for unit administration (Home page, Forms, Metadata Administration, etc.), are accessed from widgets on Home page or CloudDeakin Home page.
Click on Setup on the site Navbar.
Click on Navigation.
Your unit Navbar should contain all the links your students need to complete the unit (such as Grades and Assignments), and personal tools they might want to use (such as Portfolio). It should also include links to navigate to Home page, CloudDeakin Home page and Logout.
The list of links you can choose from depends on the tools your Faculty uses, and the tools that you enabled for your unit.
Typical Navbar link locations:
Top Left: Display the Unit code and name
Bottom Left: Home, Resources, Collaborate (Discussions, Classlist, Groups), Assessment (Assignments, Grades, Quizzes), More (Locker, User Progress, FAQ), Portfolio and Setup.
On the main Navbars page, click on Copy from the context menu of the Navbar you want to copy.
Click on the title of the copy Navbar to edit.
Change the Name and Description of Navbar.
Click on Add Links button located in the bottom right box to add extra links for students.
Select the appropriate tools and click Add.
To modify the order of the link, drag and drop the link.
Click Save and Close.
To preview the Navbar, click Preview from the context menu of the Navbar you want to preview.
To activate the newly created Navbar, click on the drop-down list of Active Navbar.
Select the appropriate Navbar and click Apply.
Page custodian: Deakin Learning Futures Last updated: