Echo Recordings

EchoSystem is a presentation capture and playback service that incorporates both visual and audio content of classes and presentations.
---
EchoSystem offers the ability to capture and record classes and allow playback in various formats including streamed files, downloads and podcasts. In addition, EchoSystem affords a more media-rich interface, with new functionality like scenes/chapters, search, context sensitive help and good feedback mechanisms.
The Echo interface offers students two alternate views: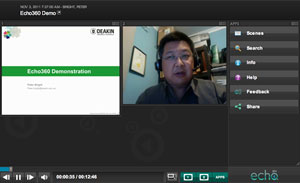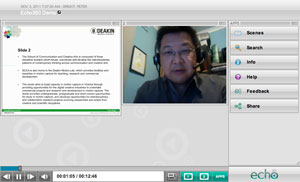 Teaching staff will be able to manage their recordings via the EchoCentre; a playlist of class and supplemental recordings for each unit. Integrated with CloudDeakin EchoCenter makes it easy to navigate, identify and launch multimedia unit resources, track recording usage and preview online student discussions and questions.
---
Echo gives you the ability to capture and record presentations:
You can also upload media recorded on another device or software to the EchoSystem and link these to your CloudDeakin site.
EchoSystem ensures that students can playback media in various formats suitable to their internet connection at home or outside of Deakin, including streaming or downloading audio or video files and subscribing to podcasts and vodcasts.
In addition, EchoSystem offers a media-rich interface, with functionality like scene detection, keyword search, bookmarks and the ability to track student usage.
Page custodian: Deakin Learning Futures Last updated: