FAQ
Browsers such as Google Chrome, Mozilla Firefox and Internet Explorer are now actively blocking mixed content – content from unsecured sites. This may result in a blank screen or an error message such as "Your browser has failed to load this video. Please click here to view it in DeakinAir." while viewing content within CloudDeakin.
To allow mixed content within CloudDeakin you may have to actively choose to allow blocked content. To do this please follow the instructions below
Mozilla Firefox
A small icon of a shield will appear on the left side of the address bar if the page you are viewing contains unsecure content.
Click on the shield.
Click on Keep Blocking drop-down list.
Select Disable Protection on this page.
Google Chrome
A small icon of a shield will appear on the right side of the address bar if the page you are viewing contains unsecure content.

Click on the shield.
Select Load Unsafe Script.
Internet Explorer
A Popup will appear at the bottom of the page that says Only secure content is displayed if the page you are viewing contains unsecure content.

Click Show all content.
The recommended process to link an Echo Recording in CloudDeakin is to use the Add Activities button (under Content) and choose EchoSystem from the list of external tool links. Please refer to the Echo Recordings Guide for detailed information.
If the upload button is missing then Java is most likely either disabled or not installed on your computer.
Open Firefox and go to the Java test page to find out if Java is working on your computer.
In Firefox, go to Tools > Add-ons > Plugins.
Click on the Java (TM) Platform plugin.
Click on the Enable button (if the button says Disable, Java is already enabled).
Note: In Firefox version 20, a red plugin icon is displayed next to the address bar to indicate Java is blocked.
Please contact the IT Service Desk on x72400 if you have any issues within the venue. They can provide phone support or Zoom Recorders to capture your lecture.
If you have the Unit Chair role in the site, you will be able to enrol teaching staff.
Click on Site Tools and select Classlist.
Click on Add Participants and select Add an existing user.
In the Search For field, enter the staff name and hit enter on your keyboard.
From the results, select the check box next to the staff name.
Under the Role drop-down list, select the role you wish the staff to have.
Click Enrol Selected Users.
Note: If a user has been enrolled as an Observer, Unit Chairs cannot find them under Classlist.
You need to impersonate the Demo Student. Please refer to Classlist guide for instructions.
Please ensure that you've login to the system. Also, the search field is case sensitive.
Please click Accept or OK if you receive any warnings or alerts when attempting to launch eLive.
DeakinAir accepts all common video, audio and image formats in all resolutions. For best results with video, we recommend preparing videos in 1280x720 pixels and using the H.264 video codec at about 4000 kb/s. The file upload limit is 2GB. For optimal end-user experience you might like to consider a maximum of 20 min videos. If necessary, playlists can easily be created to segment longer video sequences or group similar subject matter.
Check the recommended file format above. If your video is not using the correct codec, use software such as Handbrake to re-encode. If you're uploading a huge file, please ensure that you've a good Internet connection. Best end-user experience will be on-campus via wired network or off-campus via ADSL. Use this site to check your Internet speed.
You can view PDF's in Mozilla, but by default this in not enabled. To enable this, please follow these steps:
Click on Tools and then select Options. Alternatively, select Firefox button on the top left hand side and select Options.
Select the Applications panel.
Find Portable Document Format (PDF) in the list and click on it to select it.
Click on the drop-down arrow in the Action column for the above entry and select Use Adobe Acrobat in Firefox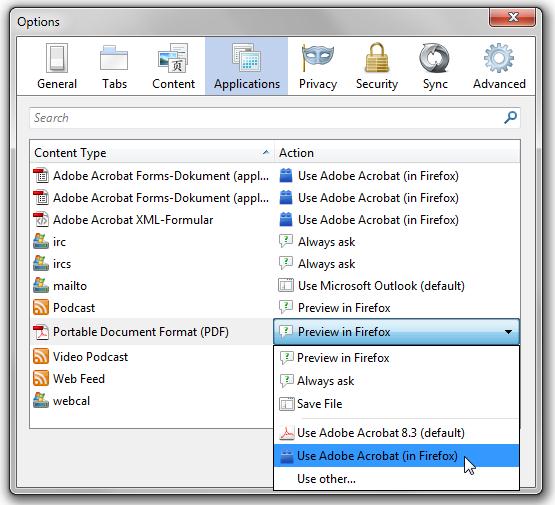 Return to your YouTube video, click on Share and then Embed tab. Tick the Use old embed code box. Copy the code and paste in your html page.