Learning Spaces
LIVE the future: Agenda 2020, launched July 2012, encapsulates Deakin University's plan to bring the opportunities of the digital age into the real world of Learning, Ideas, Value and Experience (LIVE).
These four important and interconnecting elements make up the Deakin Promise. As a worldly university, informed by its Australian context and engaged with the communities it serves, Deakin promises to advance: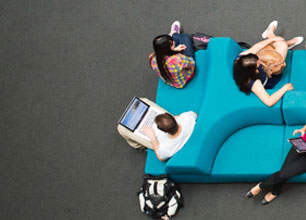 Learning: Offer brilliant education where you are and where you want to go
Ideas: Make a difference through world-class innovation and research
Value: Strengthen our communities, enable our partners and enhance our enterprise
Experience: Delight our students, our alumni, our staff and our friends.
LEARNING in LIVE the Future is a shared responsibility of the Faculties in partnership with the portfolio of the Deputy Vice-Chancellor (Education) and associated support services. Learning 2013 communicates Deakin's curriculum framework and the initiatives that lead to the realisation of the Deakin LEARNING Promise in 2013. It will be a work in progress reporting plans and progress. Updates will be provided in subsequent versions (probably in June, September and December).
The priorities in 2013 are course enhancements and capacity building to enable evidence for graduate employability through premium cloud and located learning. In more detail:
course enhancements: enhancing graduate employability through assessment, work-integrated and career development learning
premium cloud learning: personal, engaging and relevant experiences in the cloud
premium located learning: personal, engaging and relevant experiences on campuses, learning centres and industry sites
staff capacity building: ensuring staff feel supported and prepared for:
teaching in emerging cloud and located environments
leadership in teaching and learning
learning research and evaluation.
Further information and examples on what is premium cloud and located is available.